Sunday, March 28, 2010
The past week has been busy as usual.

Last Tuesday it was THE hockey game - Thrashers vs. Bruins. Bruins were in the last playoff spot and the Thrashers were only 3 points behind them. If we could win this game, we had a real shot of making the playoffs.

And, we lost. It was a horrible game. Not only did we loose but it was a shutout. We didn't even score. We were not a happy group.


Friday night I had a sleep study at the hospital. Have you ever had a sleep study? It is not conducive to sleep. I arrived around 9p and was taken up to the Sleep Lab at 9:30p. At 10:15p, the tech came in to get me hooked up to 'everything' and I do mean 'everything'. Six leads (read as wires) to the head (read as in the hair - with an adhesive that resembled styling gel with crazy glue), six leads on the face, two leads on the chest and two leads on each leg. You would think that would be enough but noooooooo. Then they place two respiratory belts and two, yes two, nasal cannula's. Then they tell you that sleeping on your stomach is not allowed. After all of that, the tech flips off the light and says "Sleep tight." Right......
Anywho, I slept some and it's over now. I really hope I don't have to endure that again.
Sunday, Darrell, Jesse and I headed over to Chapel Hill High School in Douglasville to see Joey in 'Joseph and the Amazing Technicolor Dreamcoat'. It was a fantastic production. Joey played the Pharaoh a la' Elvis.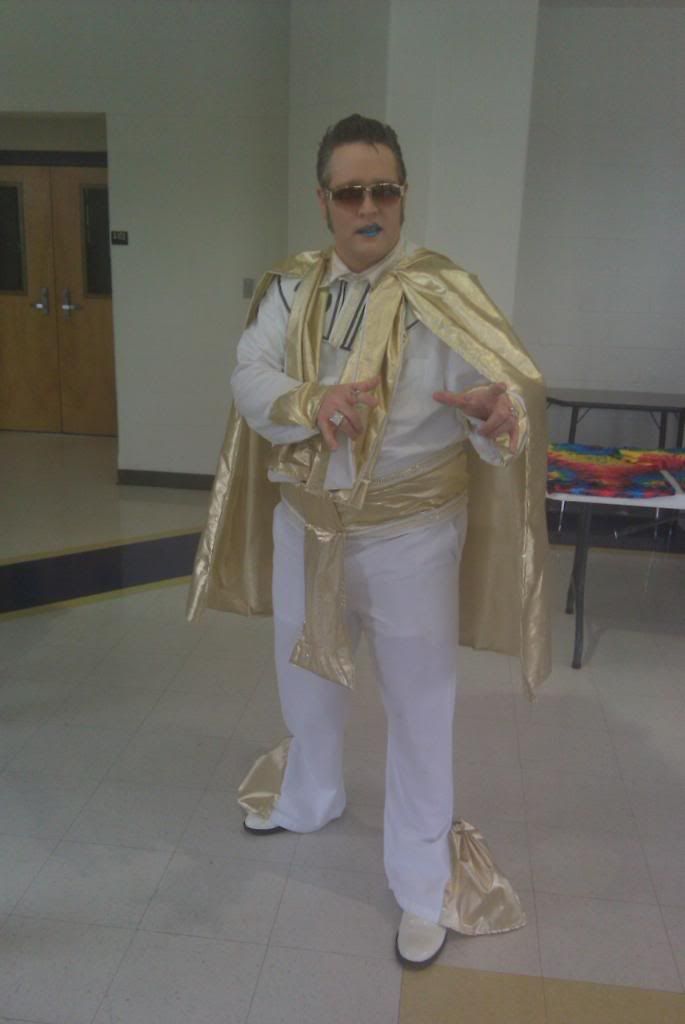 Here is a clip. It was done with my cell phone so it's not the best quality but you get the idea...
We were lucky enough to go to the same performance as the Hanson's so we were able to have dinner with old friends after the play... Bonus!!!
Posted by

Annabella
at 10:21 PM
0 comments

Monday, March 22, 2010
Whew, it has been a busy season.

Now, between hockey games, there were 2 major 501st events that happened. First was the 2010 Atlanta St. Patrick's Day Parade downtown. The number of 501st participants are growing each year. This year there were members from Georgia, Carolina, Alabama and Mid-South. We also had members from two divisions of the Rebel Legion.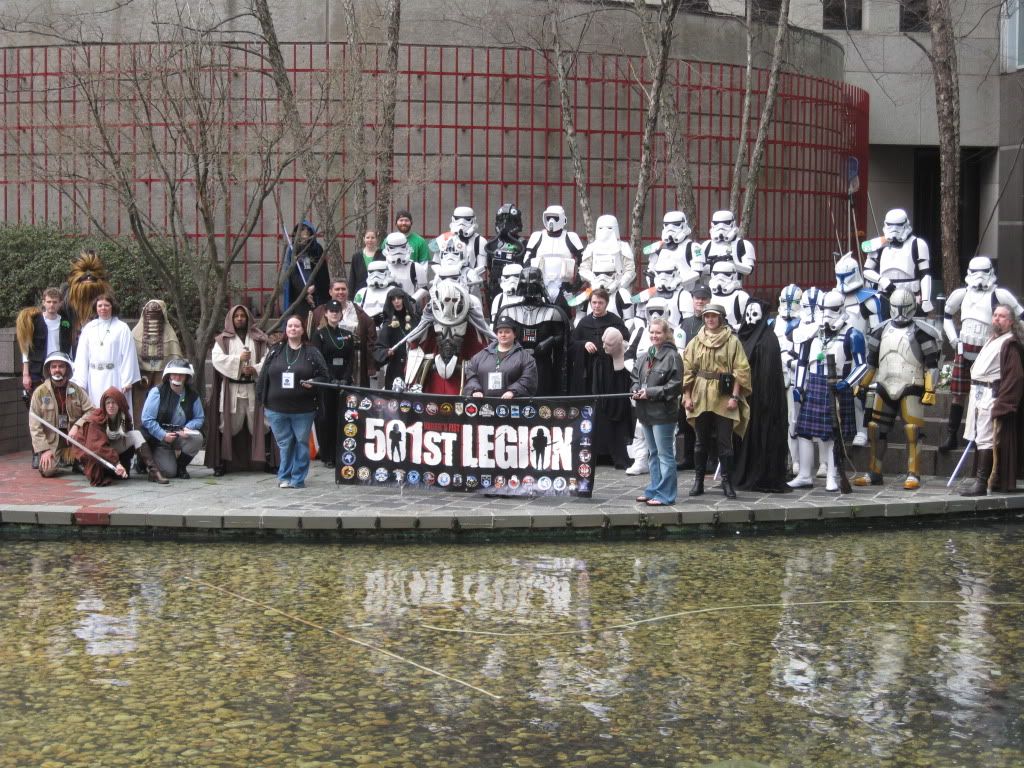 This is a FUN event.

We meet and park at the parade route end point and get ready. Then we take Marta to the Parade staging area. I love to watch the people stare as a line of Star Wars characters go marching by them.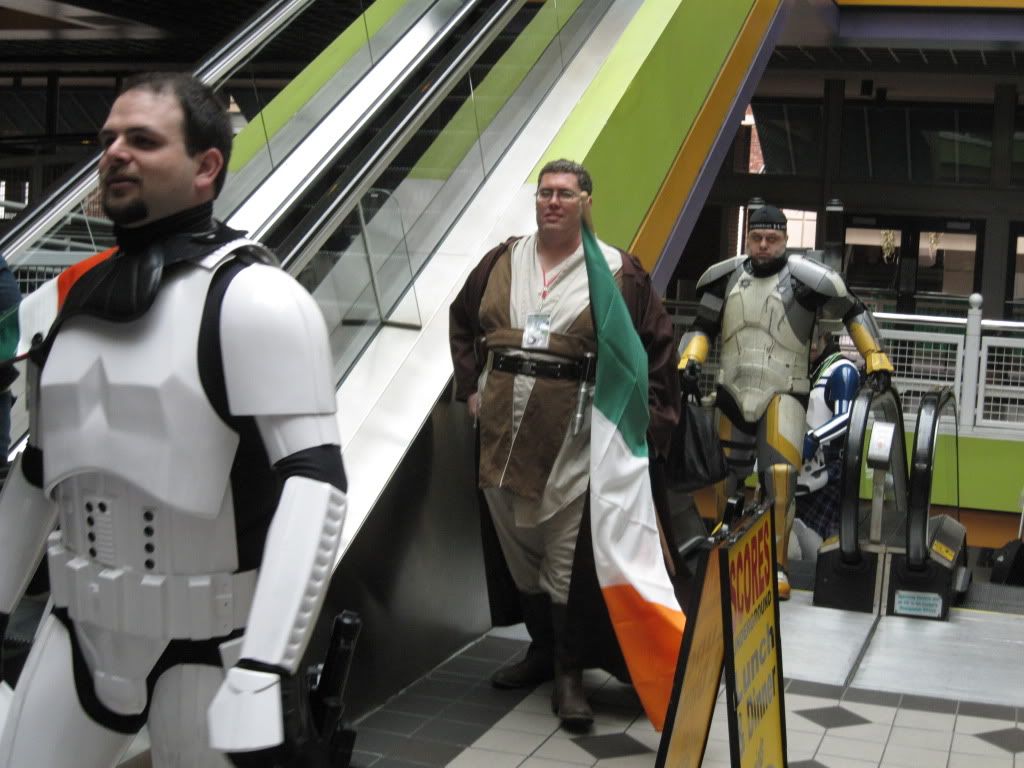 At the parade staging area, Jesse pointed out a convertible Cadillac with Blues Brothers signs on it.




There we met Jake and Elwood Blues. Elwood gave me some beads and told me that he and his friend had been doing the 'Blues Brothers' and the St. Patrick's Day Parade since the movie came out. Elwood was our friend.


It's didn't take long before Elwood popped the trunk of the Caddy and started offering drinks. He asked if I wanted some Crown Royal and I said, "Are you serious?" He answered "Sweetheart, I am retired, do well for myself and have 40 bottles." How can you say no to that! Needless to say the 501st LOVED him. By the time the parade started moving, he had given us our own bottle for the parade. I did make sure to get his email so I could say 'Thanks' and send him some of the pictures I took.
Now add in loud dance music and we were starting to have a party at the parade line up... That is all I'm gonna say about these clips…
And there are more over at on the
rumbunny13 YouTube channel
.
Another exciting part of the parade was General Grievous. Ed, from the Carolina Garrison, had made an amazing body puppet of Grievous. Here are some photos and videos but they really don't do it justice.
Put Pix side-by-side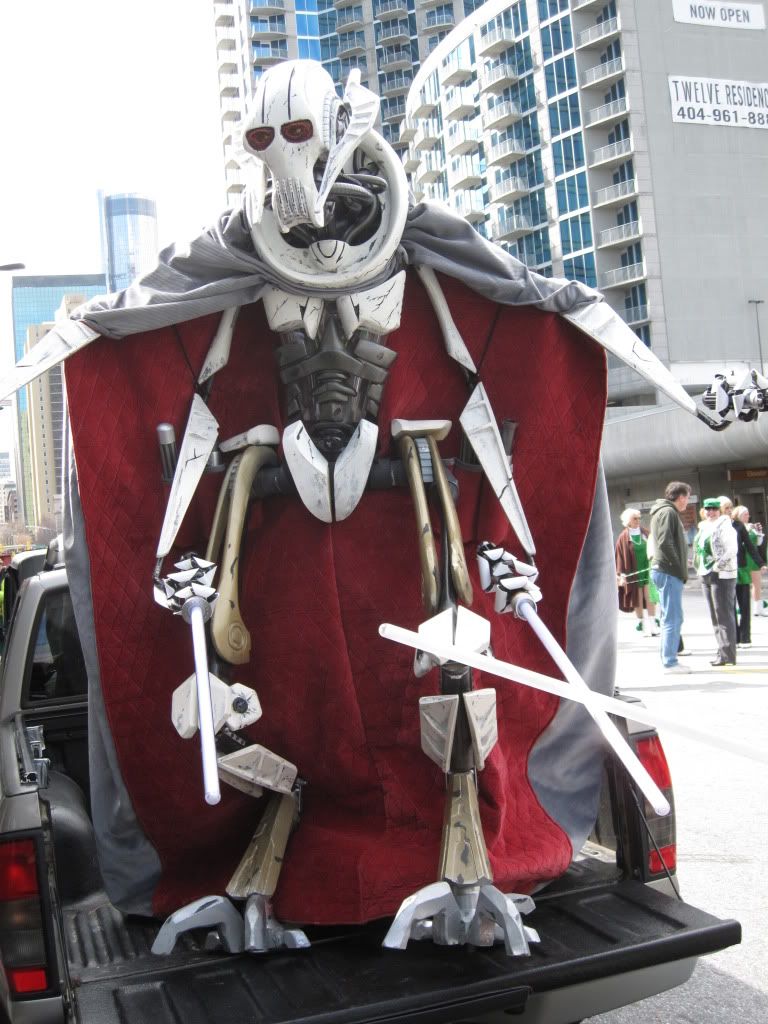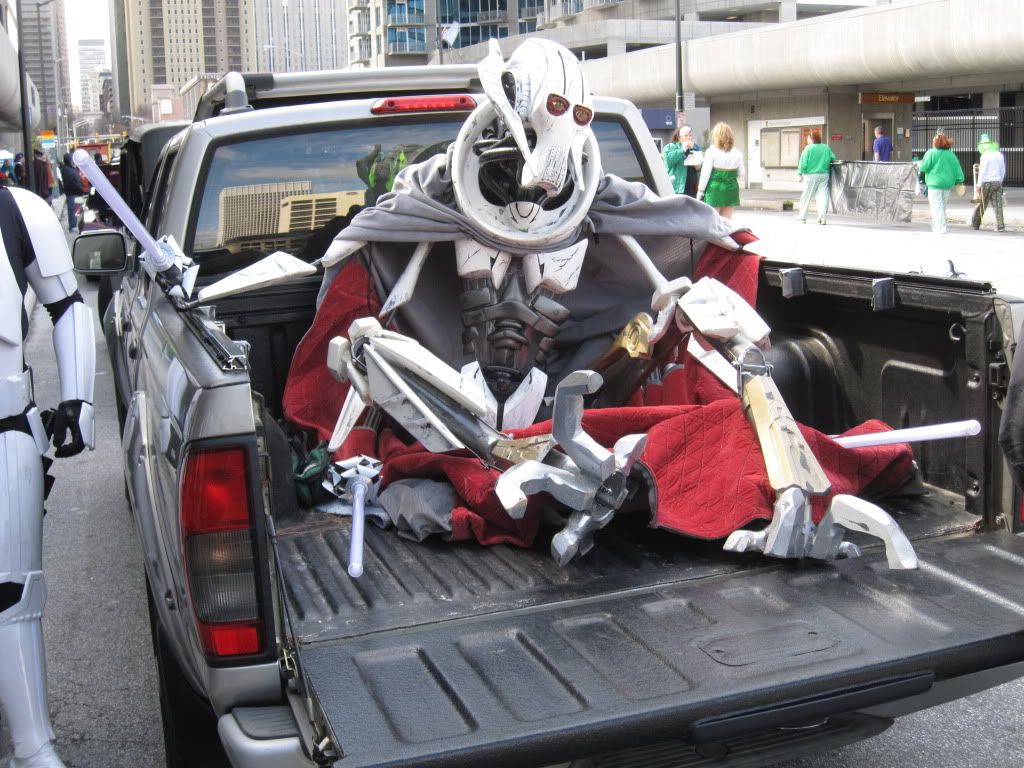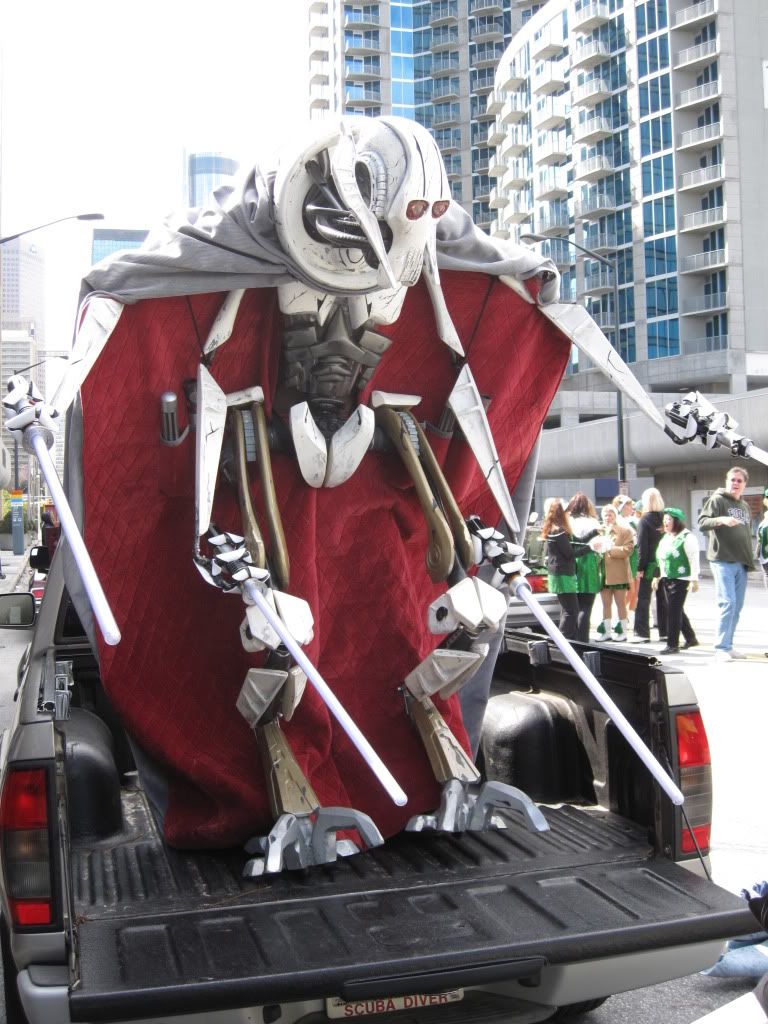 He even got into the St. Patrick's Day spirit…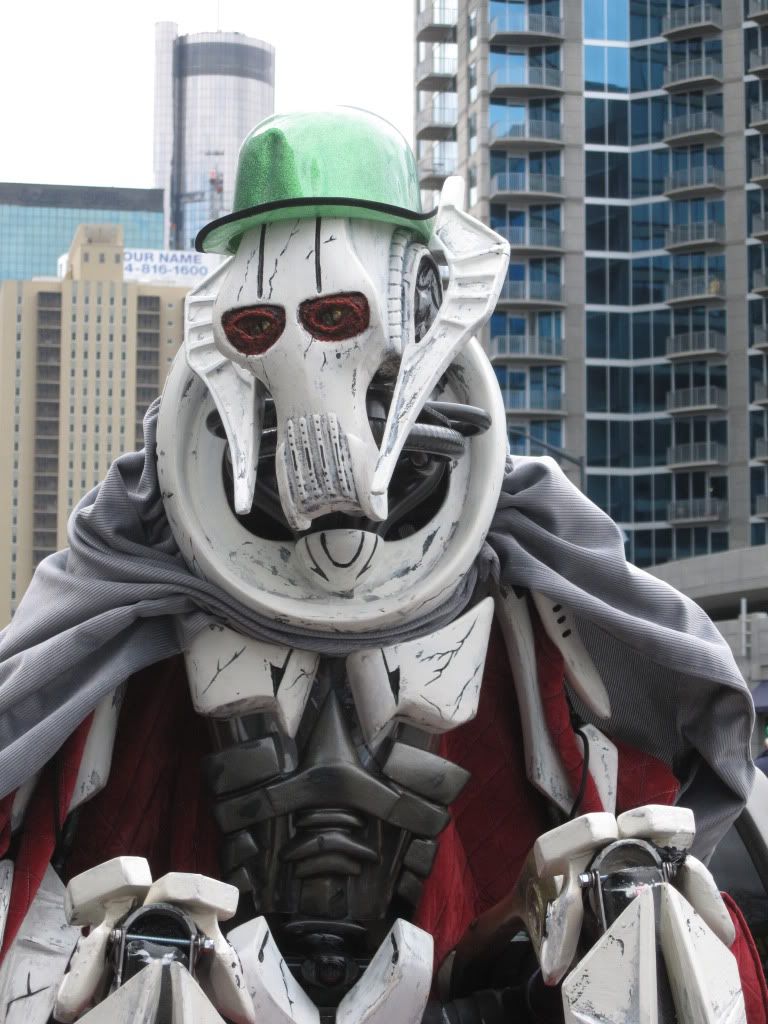 I cannot move on without mentioning Princess and my favorite spectator on the parade route. Princess is an incredibly sweet and beautiful Husky. This is the second time her owner and the 501st have parked in the same parking deck. Needless to say, there is no lacking in love…
When I saw this little guy, I had to stop and get a picture of him…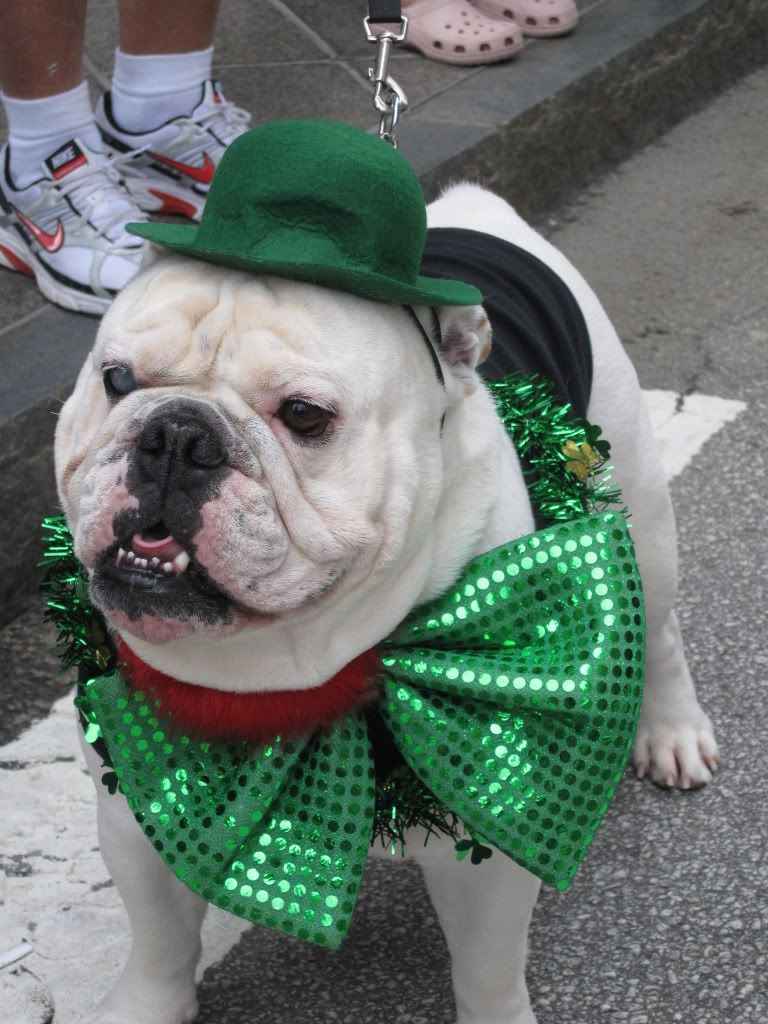 Here are a few other pictures from the parade…
The Movie Magic of John Williams
Last and definitely not least, was the 501st helping out at the Woodruff Arts Center yesterday with the 'The Movie Magic of John Williams' program. It was a rare opportunity to participate with Atlanta Symphony Orchestra. All costume characters were on stage at least once during the performance. We had to arrive early and work with the Conductor on blocking what would be happening during the show. Luckily, this was the second performance and we had a couple of people who had done it the night before. It went pretty quick and smooth. The biggest thing was creating a 'generic' Jedi out of Auggie so Count Dooku would have someone to fight. Actually, he looked more like a Nun from the dark side.
I did have time for a quick group shot with the Conductor during the walkthrough:
The area they had for the 501st the change was pretty sweet (by 501st standards). It was just the 'Chorus Dressing Room' but we liked it…
Since the Star Wars music was not till the end of the performance, I had the opportunity to head upstairs and watch the 1st half of the concert. It was fantastic! They played music from Superman, E.T., Harry Potter and Jaws. During the Jaws segment, an inflatable shark appeared and 'swam' its way through the orchestra to the other side of the stage.
At intermission, I headed back downstairs only to head back upstairs and backstage with everyone else. I was surprised we were able to get another quick group shot with the 501st is full costume with the Conductor before the second part of the program began.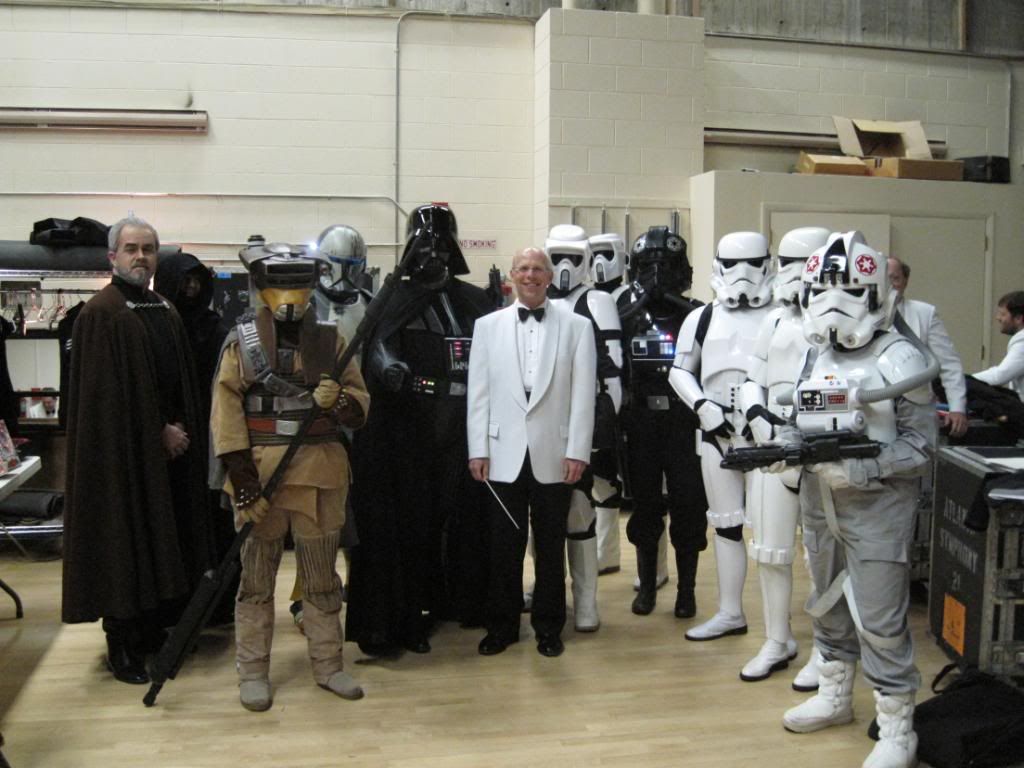 I stood back stage and listed to music from Jurassic Park and a piece called 'The Mission'. 'The Mission' is the full piece of music that was written for the NBC Nightly News – who knew???? On TV, you only get a small sampling of the music.
Once it was over, they changed and we packed up. I think everyone was exhausted. When we were about to leave, someone mentioned that Jason was now dressed up like his favorite Garrison CO. There had to be a picture…
Posted by

Annabella
at 10:36 PM
0 comments

Lately, it seems like I am consistently running 2-3 weeks behind in everything except the Blog. That is more like 4-6 weeks behind!

I know the last few entries have been 'bundle' entries with several events being covered. Well, this one will be no different. In fact, it will have a slew of events covered. Sorry, but this is going to be a long post.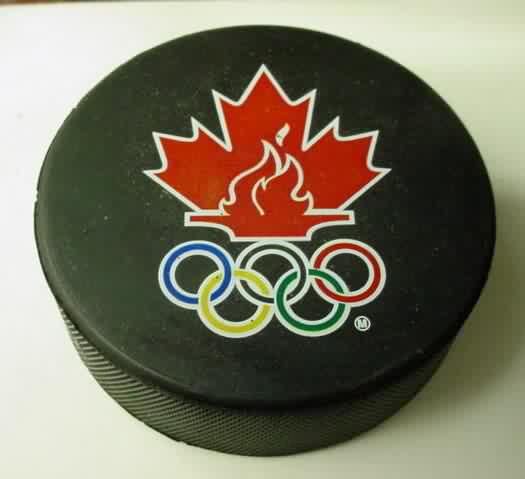 Well, after the last entry, it was all about Olympic hockey, specifically men's hockey. While there were no Thrashers on the USA team, they were represented on several other teams. Ilya Kovalchuk played for Russia, Tobias Enstrom represented on the Team Sweden and both Ondrey Pavelec and Pavel Kubina both played for the Czech Republic. Even though I am a die-hard Thrasher's fan, I admit I did become a bit of a Ryan Miller fan too. He is an amazing Goalie!
After the Olympics, I began a whirlwind of Thrashers games. They started off O.K. but then it turned pretty bad with a loosing streak that did not want to stop.
March 2 – Panthers v. Thrashers – WE WON!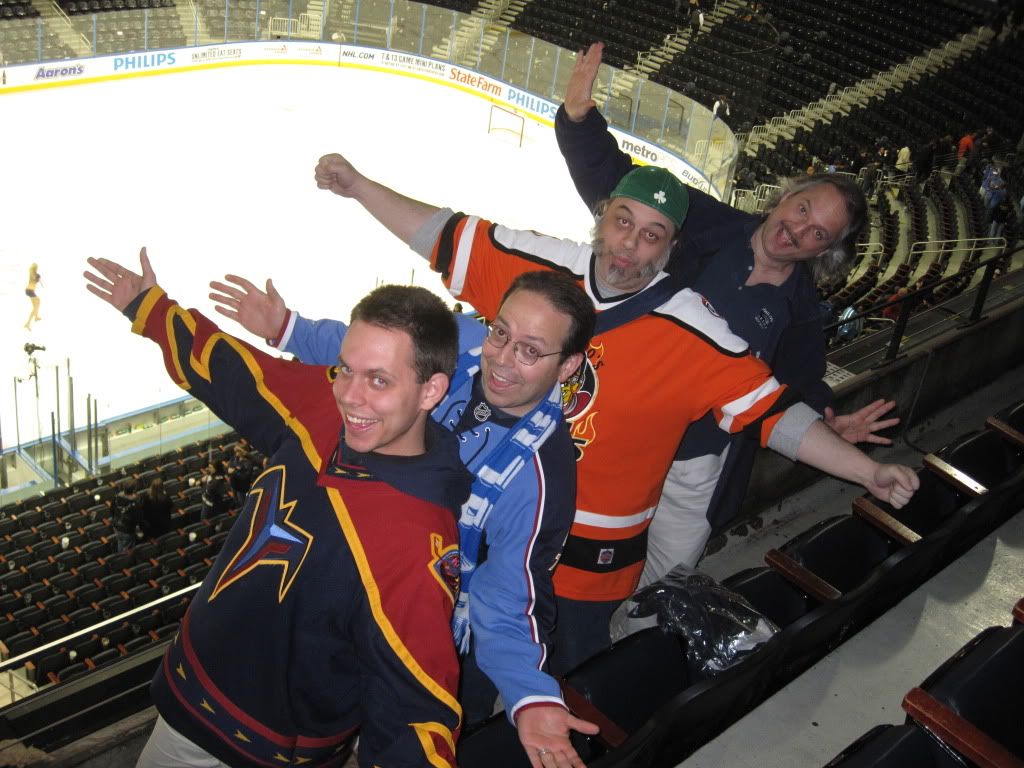 March 7 – Hurricanes v. Thrashers - Not so great...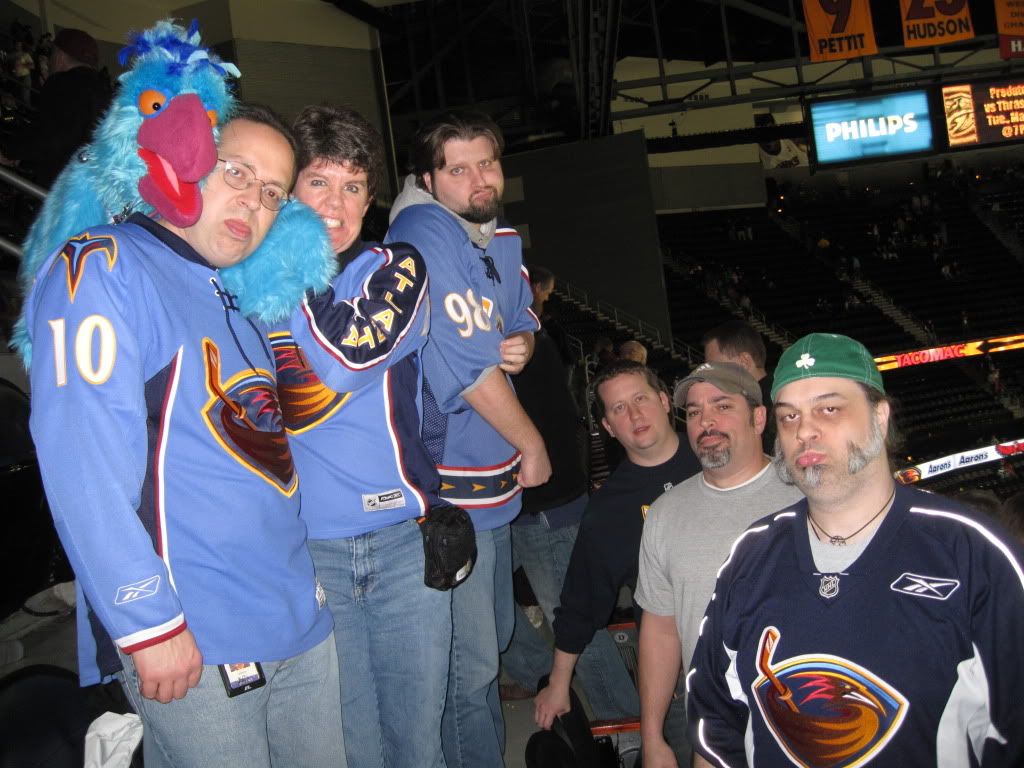 March 12 – Rangers v. Thrashers - Really not so great...
March 14 – Coyotes v. Thrashers - Lost in the Shoot Out.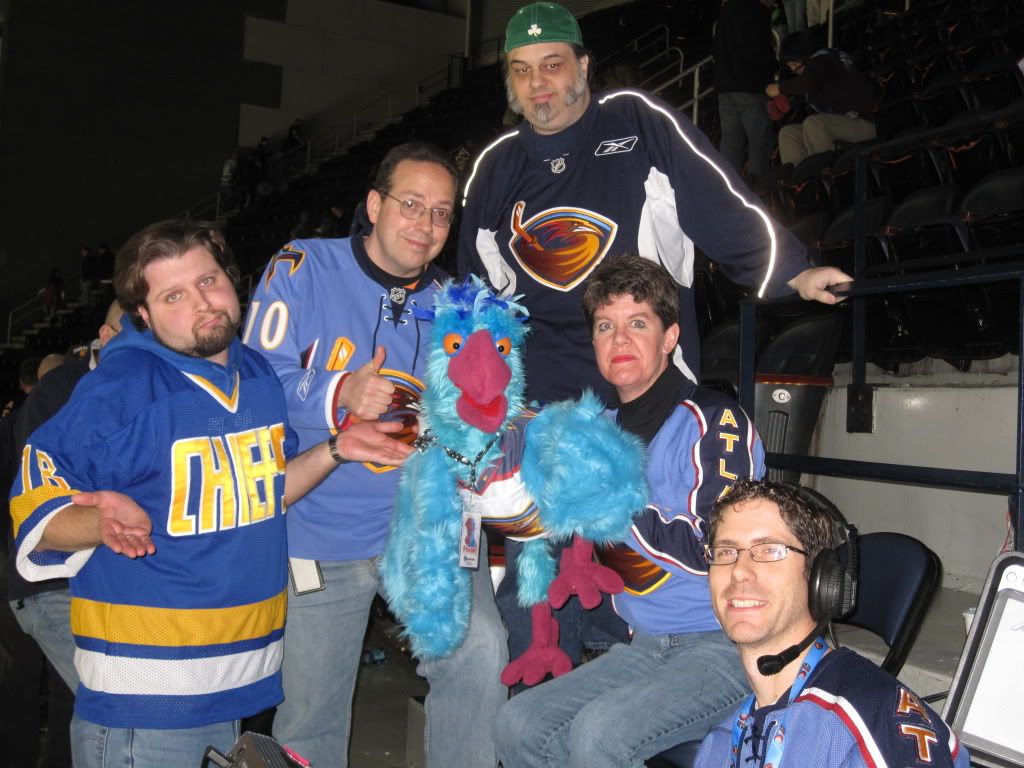 Then there was the Sabres game on March 16th. Walking around, I think there were more Sabres fans in attendance than Thrasher fans but that was OK.
Something that night changed and while I'm not sure what it was, I liked it. My theory is that Mike attended the game with us… as a Sabres fan. Mike is a great guy, he just happens to be a Sabres fan. For the past few years, he and his wife have always sat with us at the Sabres-Thrashers game. Every game he has come too, the Thrashers have won. I consider him my own little twisted good luck charm. Don't worry Mike, we'll make sure you and Melissa have tickets for next year's game.
(Quick Note: A 'bucket' is a helmet; specifically a Star Wars costume helmet like a Stormtrooper or Darth Vader. Just so the rest all makes sense)
Also, it was a bucket night for Zach (and Steve so Zach wouldn't be alone). The official 'Bucket Night' was the following Saturday, Mar 20th against the Flyers. Since Zach had to go out of town that weekend, he decided to have his own bucket night before he left Atlanta.
We arrived at the game early and decided to get some pictures of Zach down by the ice. We picked a spot near the tunnel where the players exit to the bench. I had never been able to wait there before. It was usually too crowded. Guess that's what a losing streak will do for attendance. Anyhow, as we were waiting, the SportSouth camera man was setting up to film the team's entrance to the ice when he spotted Zach. He asked Zach to hold one of the Thrasher's hockey pucks and point to it. It was a quick shot. We really didn't know if they would use it and were ecstatic when we watched the game later on Tivo to see Zach right after the 1st period. Here is the clip:
It was also some of the best player photos I have been able to take. Here is my favorite of Eric Boulton.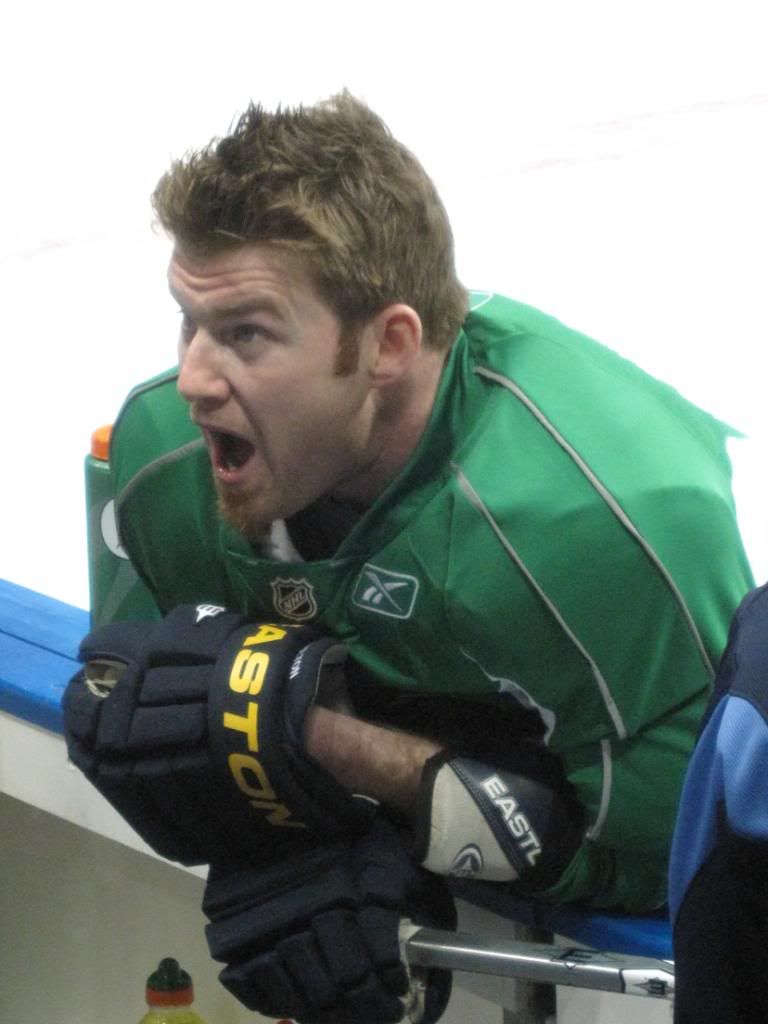 Of course, the most exciting thing for me was hanging my hand down and getting the fist bumps from the players as they went back to the locker room. I know it's silly but I loved it!
Zach and Steve made the jumbotron in their buckets but it was so quick, I couldn't get a picture of it. The best part of the night – WE WON!!!! The loosing streak was over! It was a beautiful thing.
The next game was March 20th against the Flyers – The Official Bucket Night 2010.
Earlier on game day, BenThrashers had put out a Tweet (yes, I love Twitter) that Hedberg was in Goal that night. Since I had made a special Star Wars related hockey sign just for him, I was excited. I replied to BenThrashers that "we would have 7 Thrasher lovin' Troopers and Darth Vader at the game that night." He retweeted the message to all of his followers. I was really getting excited about the game. At the last minute we heard from Zach. He was coming back from his trip early and was heading straight from the airport to the game on Marta. We had a ticket waiting for him.
Again, we arrived early and to a huge crowd for a nice change. The gang convened at our seats in section 309. We had me, deTag, Liz, Darrell as a Republic Commando, Steve as a Biker Scout, Josh as Vader, and Alex, Jesse, Kyle and Zach as Stormtroopers. At this point in the evening, my main focus was photos and some video.
All I can say was it was AWESOME! First and foremost, we won the game. Lots of people came down to our seats for pictures – just as many adults as kids – gotta love that! The guys made the jumbotron TWICE! I was able to catch it the first time. I turned on the video as soon as I heard the Imperial March start playing…..
The second time was so unexpected and I didn't have the camera ready.
After we got home, I received an email from Steve stating we had made SportSouth again. I pulled up the TIVO and sure enough, there we were. They caught at an awkward moment. Not everyone had their bucket on. It was between the 2nd and 3rd period. We were watching Thrash shoot his t-shirt cannon.
Liz had brought her puppet Frash to the game. Everyone loves Frash. He is this awesome bird puppet she has made just for the Thrashers games. He got his own little blip on TV during the 'Final Take' that is shown after 'Thrasher's Live'.
So, as you can tell, Bucket night was a huge success.
Posted by

Annabella
at 8:43 PM
2 comments