Friday, September 11, 2009
I didn't have a choice but to get up at a decent hour on Saturday morning. No matter how much my body protested. The highly anticipated D*C parade is always on Saturday morning. The crew was supposed to meet at the Marriott fountain at 9-9:15'ish. The parade lineup was at 9:30am about 4.5 blocks away at Woodruff Park. With lots of help from me dependable bo'sun, we dressed Kyle, Bob and Deneen and prepped all the Bunny Bead bags. Jesse even had time to help Darrell into his RC costume. We finally arrived downstairs around 9:30am and headed to lineup.

The Black Bunny Crew this year consisted of Kindra, Bob, Deneen, Jesse, Josh, Kristin, Kyle, Will, Cricket and Steve (not pictured).


The parade was amazing as always despite a grumpy parade director. Although we had tons of beads it seems like we gave out early this year. I was holding my last bundle of Bunny Beads before we ever reached the Hyatt. I had promised Gracie beads and I wasn't going to be caught empty handed.
After the parade, Darrell and I headed back to the room for a nice long, cool rest and a much needed shower. After a refreshing break, Jesse and I decided to head to the food court for some lunch/dinner while Darrell took a short nap. The food court was beyond crowded so we walked down to the Metro Diner. The wait wasn't too long. After 10 minutes, we were given a table in the bar area. The Metro has a large variety of good food but the service was slow. Between D*C and the football game in the Dome, the Metro was having a hard time keeping up with the demand. As a matter of fact, the service was so slow that after we received our drinks, we had our server deliver our order in to go boxes. Our next goal was to maneuver through Peachtree Center and back to the Marriott. This was more difficult than normal. Saturday is the single, highest attended day of D*C. Combine that with all the 'sightseers' from the parade wondering through the hotels just to see what they can see and it becomes a zoo very quickly. We finally made it back to the room and had our meal. Now it was time to get Deneen ready for the photo shoot. It would be the first unveiling of her Imperial Officer costume. I was nervous. It was such a fitted garment and she had not tried on the final piece until this afternoon. I held my breath…. and it fit like a glove! Relief! During the middle of all this chaos, the beautiful Julie and her husband Steph came by to visit. Julie actually took one of the first photos of Deneen.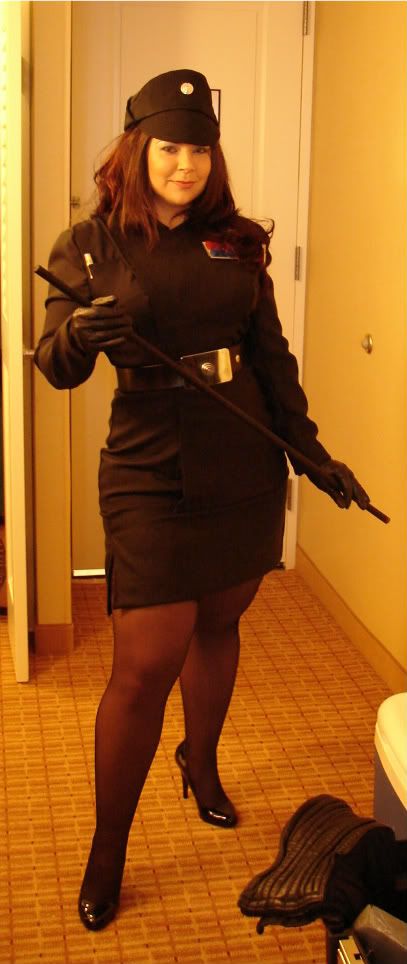 Once Deneen was ready we headed down to the 501st Mixer bar about ½ block down from the Marriott. Frank, the owner, was kind enough to let us take photos of Deneen with some willing Stormtroopers (thanks to Mike, Hal and Jesse) while they were setting up for the Mixer. There were pictures snapped and not just by Darrell. Here are some of the raw photos…
After the photo shoot, Deneen, Bob, Jesse and I walked back up to the Marriott. Jesse wanted to get out of his armor and Bob wanted to get back into the Emperor costume. When everyone was ready, we walked back down to the bar. When we arrived the Mixer was in full swing and we had a great opportunity to show off both costumes for a few minutes.
After an hour, Bob, Deneen and I headed back to the Marriot to meet up with Mystique (Sarah), the Baroness (Nikki), a Pirate Wench (Amanda), Selene (Jamie), an Elf Warrior (Cricket), Cobra Kai (William) and several handlers. Many pictures were made as everyone walked around the Marriott.
Soon we were joined by Kristin and two Royal Guards (Josh & Kyle). Since I was starting to feel a sore throat coming on, I asked if Kristin would mind handling the Emperor and Royal Guards and headed back to the room.
I took my, now traditional, over the balcony shot, chugged some Airborne, climbed in bed and waited for Darrell to get back from the Mixer.
Posted by

Annabella
at 11:59 PM