Saturday, September 25, 2010
Dead Dog Day. We were up and had the room completely packed by 9:30a. I went ahead and called for luggage assistance expecting a 1 ½ hr wait – that would get us checked out by 11a. Much to my surprise, there was no wait and they would be up in 10 minutes. I left Darrell with the luggage and ran over to get the car. By the time, I made it back to the Marriott, Darrell and the luggage were waiting for me. We packed up the car and went back to the parking deck. It was nice to meander around the Monday morning dregs and not have to stress about moving the luggage down. Darrell and I took one more walk through the Exhibitors Hall's and the Dealer's Room. I got to say good bye to my Kindra, Conner and Paul and then we were outta there. I never make it past noon at D*C on Monday. I am ready to go home. I'm tired.

The rest of my afternoon consisted of unpacking intermingled with long naps.

The next adventure, Disney!!!!!

I leave you with some random D*C pictures taken throughout the weekend…


Posted by

Annabella
at 9:47 PM
0 comments

Sunday is normally my sleep in morning but NO not this year. I had pictures with Stan Lee at 10a. Normally, I don't do the photos but I couldn't pass up a picture with Lafayette from True Blood and I really don't think I will ever see Stan Lee again.

After the photo, I wanted to hit the Walk of Fame as early as possible. I have discovered that early Sunday morning visits to the Walk of Fame means shorter lines. One of my vices is getting my DVD's signed. This morning I was after Marty Klebba and Lee Arenberg from the Pirates movies, Nelsan Ellis and Sam Trammell from True Blood and Patricia Quinn from the Rocky Horror Picture show.

As I arrived, there was no one at Lee or Marty's tables. I walked up and pulled out my DVD. As they were signing, I told them I had brought them a little gift and asked about their t-shirt sizes. Luckily, I had done some research for Marty's t-shirt. I was prepared. I think they liked the Black Bunny Crew shirts. Marty was a sweetheart. He ran around the table for me to take a picture and then Lee followed suit. They were great guys.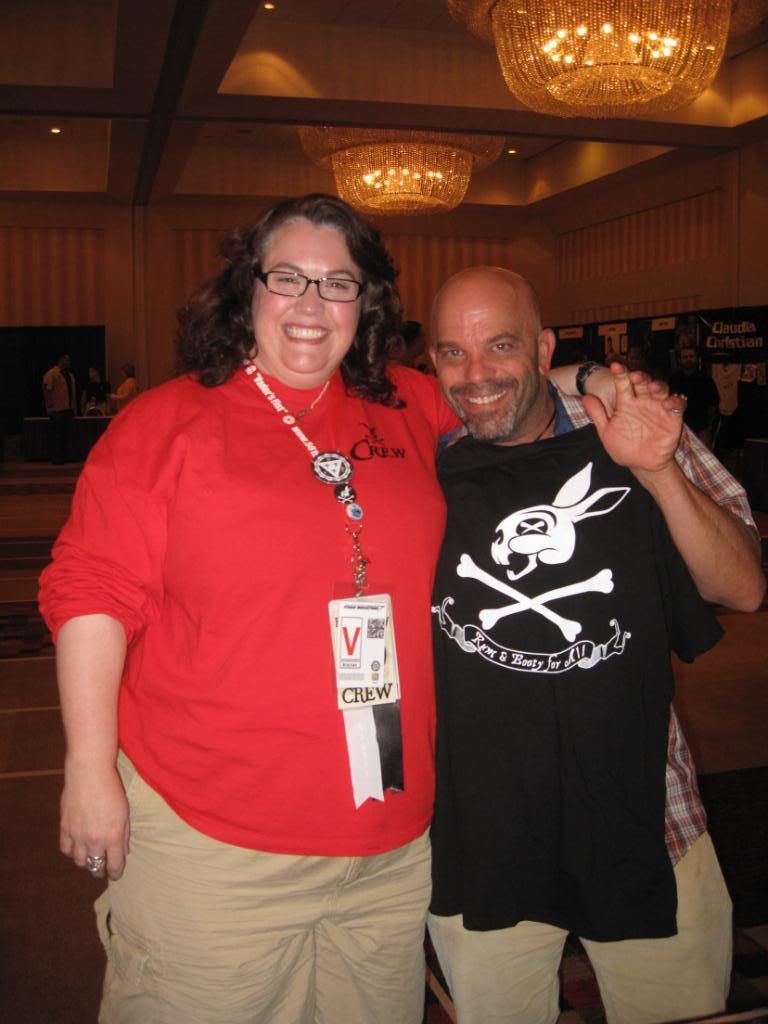 There was a short line for Sam and Lafayette. I will admit, I was impressed by Nelsan. He took my DVD opened it up and then looked at me and said, 'Good morning Captain'. I think he is the first celebrity to actually take time to read my D*C badge. It made me smile. Sam was just Sam. He comes across just like his True Blood character – down to earth and just a nice guy. We was even wearing a plaid shirt and blue jeans.
I was about to walk out of the room when Jesse and Josh walked in. We decided to take one more stroll around to see all the celebrities before heading across the hall. On our way out, Tia Carrere bumped into Josh. He didn't notice who it was until Jesse pointed it out.
We walked to the other side of the Hilton and walked into the smaller Walk of Fame room, I just wanted to lay eyes on the 'I Dream of Jeannie' cast. Larry Hagman (Major Nelson) and Bill Daily (Major Healy) definitely looked their age but Barbara Eden has aged gracefully. She is still beautiful.
Then we wandered through one of the Exhibit all's and back through the Dealer's Room. None of the vendor's really stood out to me this year.
Darrell and I walked back over to Artist's Alley in the Hyatt. That was one thing he wanted to see before the weekend was gone. I stayed awhile but was exhausted. Finally, I told him I would meet him back in the room.
I took a little nap and then started the daunting task of packing up the room. I didn't get it all done but I made good head way.
At 3p, we had a Disney meeting. It seemed to be the only time we could all get together. We discussed meeting times, travel arrangements and all that good stuff. Dtag had some fantastic t-shirts made for us all to wear to MNSSHP and Zach brought us personalized drinks!
The main Sunday event is the viewing of the Masquerade in someones room. It is usually in my room but since Jesse had the bigger room, we all met there. I'm trying to remember how many people we had… Josh, Kyle, Jesse, Zach, me, Darrell, Kris, Jane, Chris, Julian, Patricia, Liz, Steve, Kindra, Paul and Conner. I think that was most of everybody.
The only exceptional thing about the Masquerade this year was Logan. Logan is Diana and Patrick's son. He had been costuming as Ang, the last Airbender at D*C. Denise Crosby happen to see him, get a picture with him and told him to enter the Masquerade – she was a judge. I believe it was his first contest. He won a PS3 for Best in Show in the Children's category. It was nothing but a room full of screams when they announced it.
The rest of the Masquerade was spent questioning costumes, wondering why there was a bored child on stage for the duration of the Masquerade and brainstorming what we could do better – in other words, a typical Masquerade viewing. At least they did play our beloved Duck Dodger's in the 24 ½ Century. I personally think someone should go as Duck Dodgers (Daffy Duck) and 'Eager Young Space Cadet '(Porky Pig) at the next D*C.
Posted by

Annabella
at 9:44 AM
0 comments

Friday, September 24, 2010
I was up at 8a on Saturday morning. The Crew was meeting down stairs in front of the Marriott at 9:15. The parade lineup was at 9:30a. In all the years the Black Bunny has walked the D*C parade, I don't think we have ever made it before 10a. It's a good thing the pirates don't walk first. We had most of the Crew for the parade. A few succumbed to the Pub Crawl hangover or babysitting and some of the Crew walked with caution trying not to succumb to the Pub Crawl ill effects. Overall, it was a great representation from the Black Bunny Crew! Let me say a huge 'THANK YOU!!' to everyone who walked the parade with the Bunny.


The parade was a little different this year. We couldn't give out beads. I did get to see more but I really missed the beads. I'm want to talk to the parade coordinator and see if we can work in some beads next year. To me, it makes all the difference in the world.
After the parade, we gathered in the Pulse Loft for one last group shot. When the waves of people started pouring into the Marriott, we knew the parade was over. Darrell was a sweetheart and went to food court to grab us lunch while I headed back to the room.
After lunch, Darrell took a nap while I headed over to the Artist Alley. This was the first time Shag had attended D*C and I had lots o'stuff for him to sign. Steve V. told me the day before that Shag was only signing between 2p and 3p and I did NOT want to miss him. I got there about 1:45p and was 5th in line. I saw Steve was first. I'm glad Steve and I were both there. It allowed us get pictures of each other with him.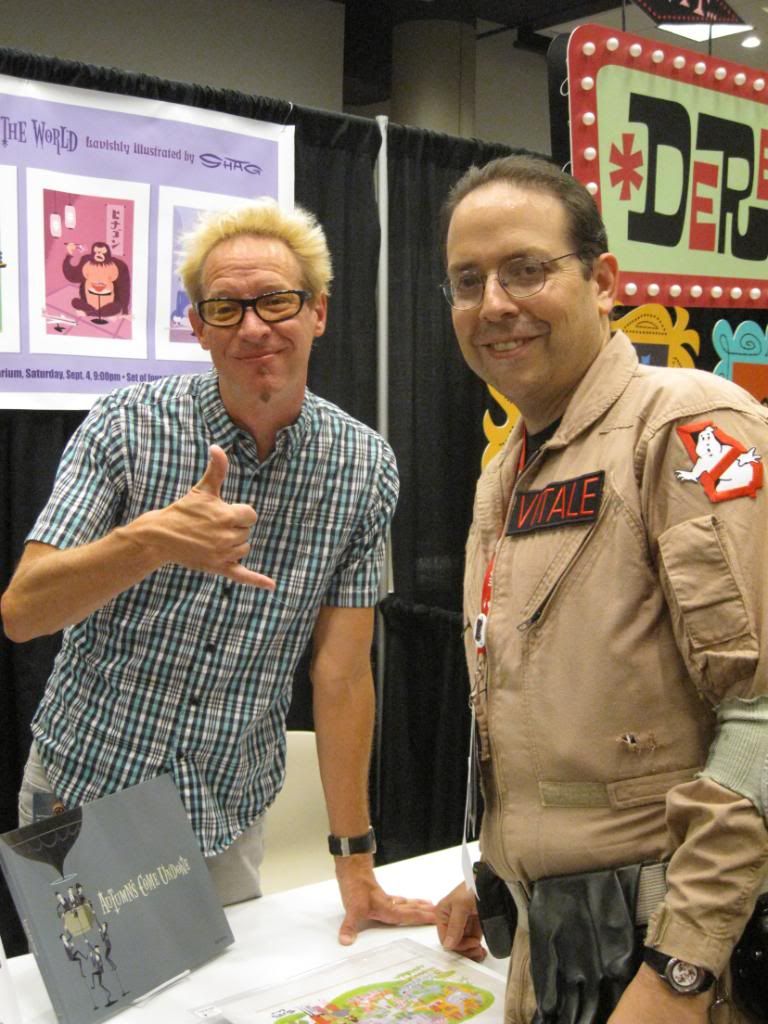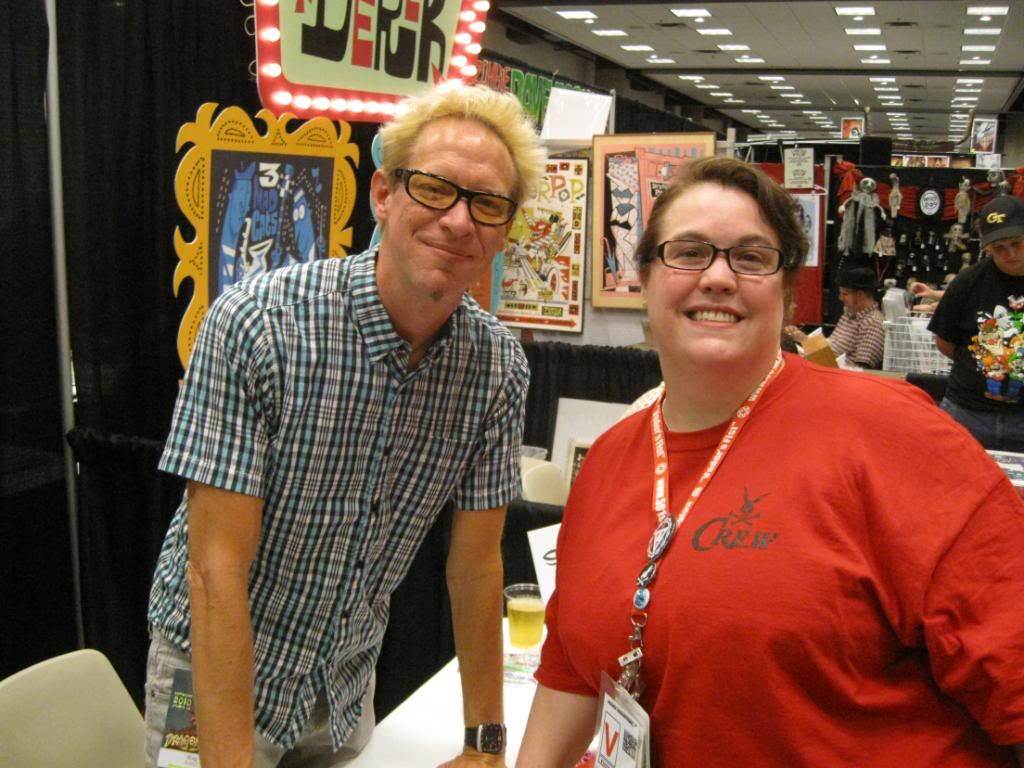 I have to tell you, Shag was wonderful! I had a large print, book, coaster tin and about 16 postcards. He signed them all.
I went back to the room for a little rest. After a short nap,I walked down to Jesse's room. I got to see Steve, Liz and Zach suited up for Ghostbusters and the lovely Donna visited in her Wonder Woman costume.
It wasn't long before Erik arrived for the evening. He and Darrell were getting ready in our room for the IBK Convention downstairs. It took a little time to get ready but they looked amazing!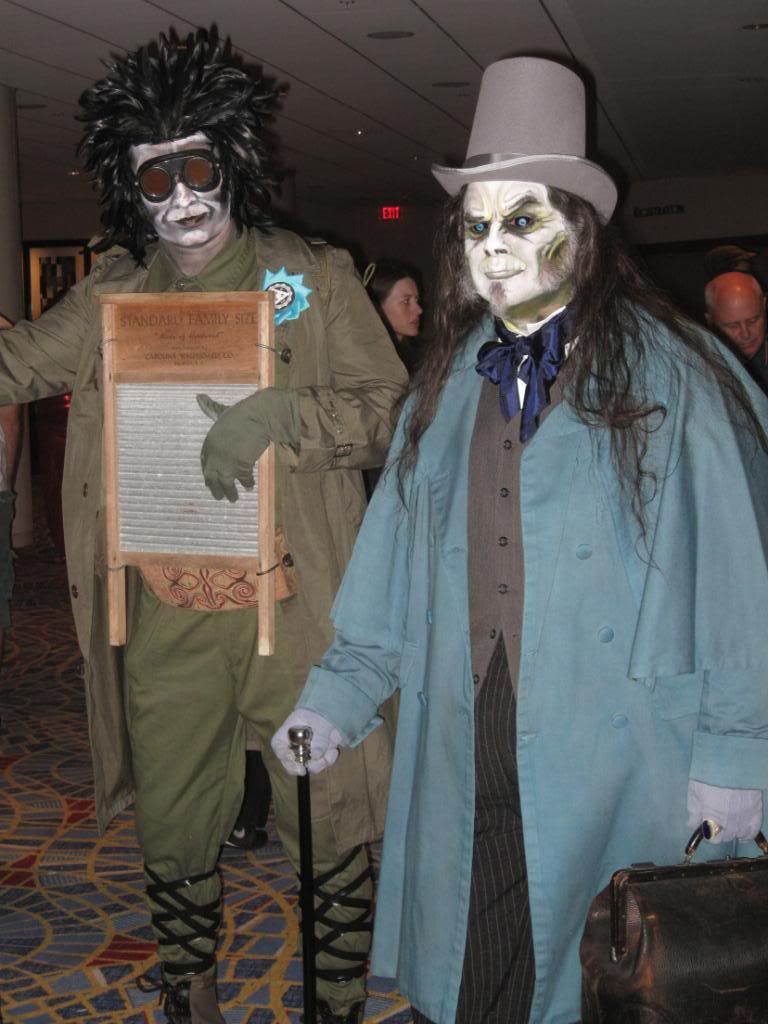 They headed out and met up with the other IBK members and tons of pictures taken while they gave out handfuls of IBK beads.
I spent the rest of the evening looking at costumes, wandering the floor, drinking rum with Kris and hanging out with Kindra, Paul and Conner in the back corner of the Marriott.
I wasn't there when it happened but I was told Conner experienced his first photo frenzy. Kindra has specifically dressed him in case the perfect photo opportunity presented itself and it did….
The evening lobby shot…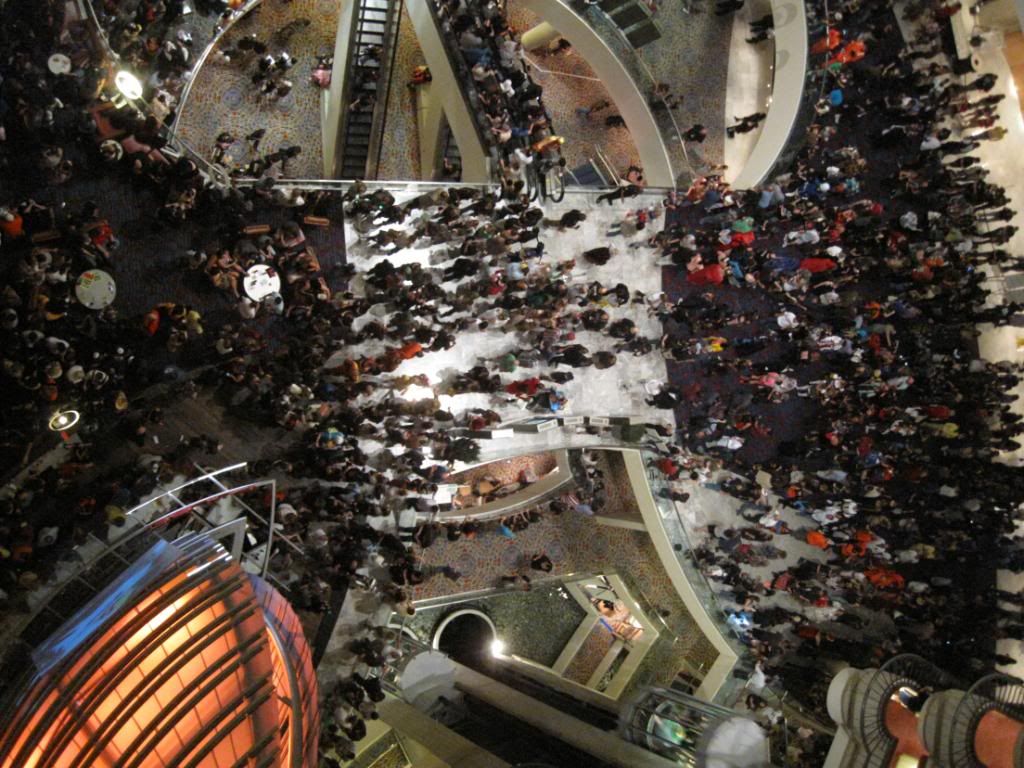 Posted by

Annabella
at 9:14 PM
0 comments

I was up and out early Friday morning. I went with Jesse and Kyle to the True Blood panel at 10a. The panel was fun and entertaining. The best part, I got to see my beloved Lafayette in person.


After that panel, I ran down to Froggy's to find out when my True Blood pictures were scheduled for today. I was to be back around 1:30p. That gave me just enough time to grab lunch and get ready. I texted Kindra the time. I wanted her in the picture with me.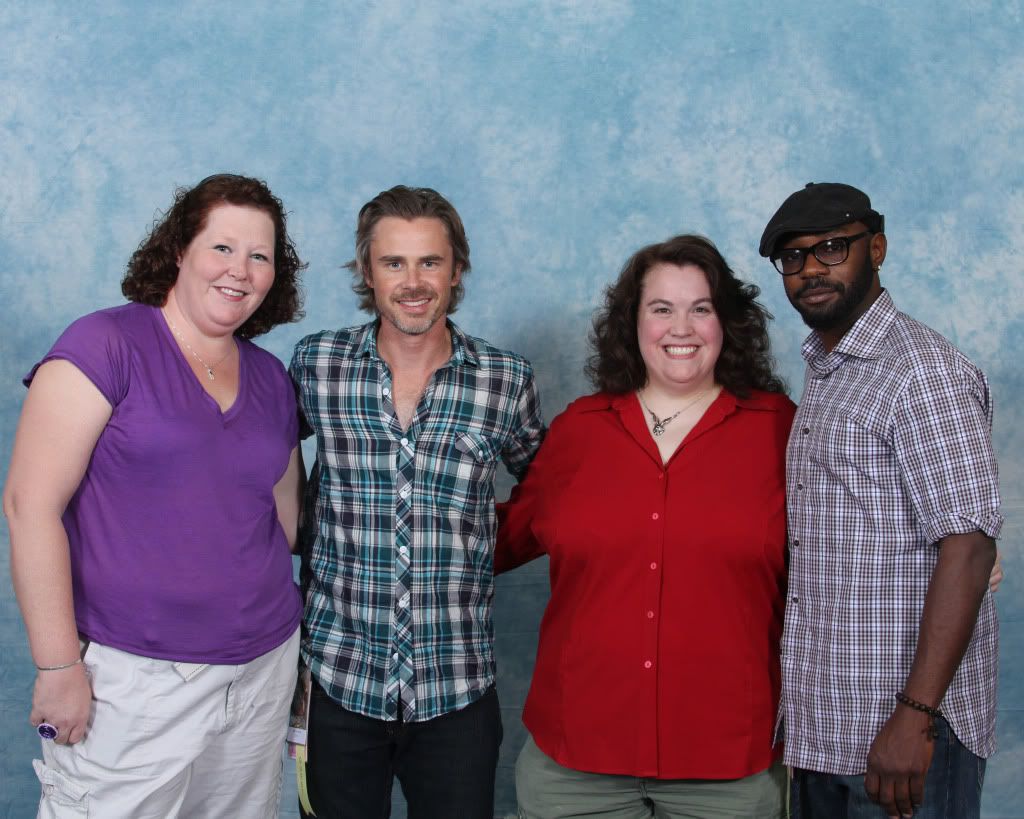 After the picture, I walked back up with 'Pam' (Kristin Bauer) from True Blood. She was very sweet and didn't seem to want to run away from her fans like some celebrities.
I had time for a quick run through the Dealer's Room with Jesse before I went back to the room to prepare for the Poor Man's Pub Crawl. Darrell was a sweetheart and ran to the food court and brought dinner back to the room for me. After dinner, I began staging the Pub Crawl ribbons and mixing the Tiki Tea. I even managed to handwrite a couple of Pub Crawl schedules for those who wanted them.
At 6:15p, folks started arriving. After taking care of all the ribbons and making sure everyone had a drink, it was time for the 'Group Photo'. There were so many participants at Tiki Tea; I had to take the photo in two parts.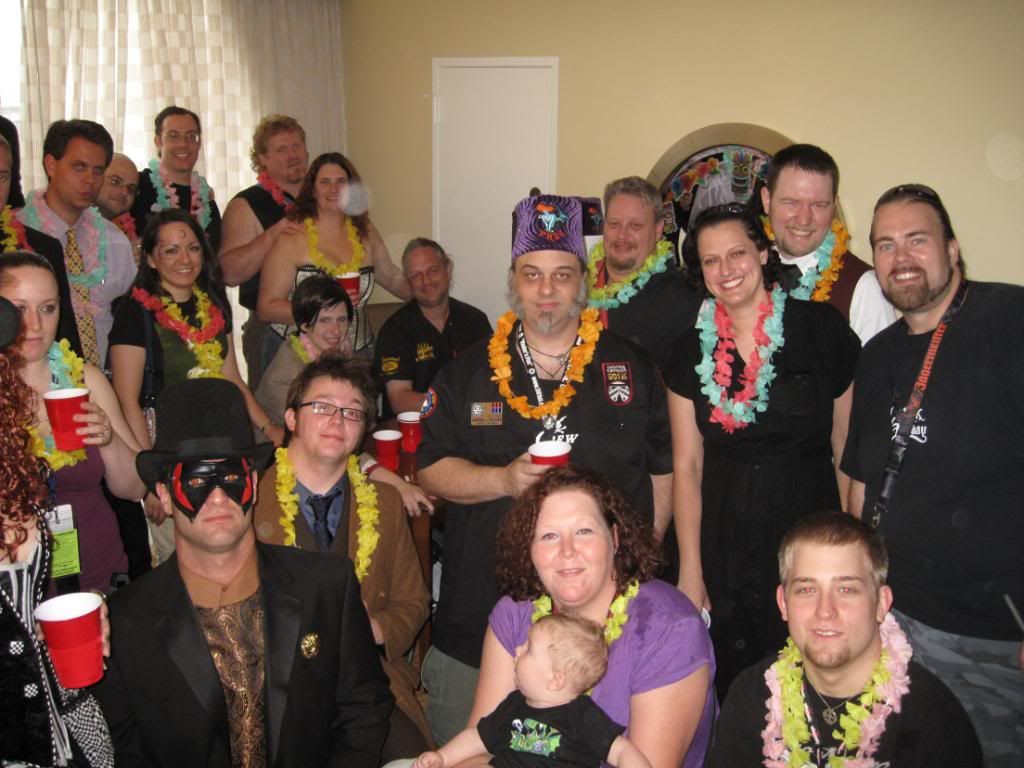 Thus the Pub Crawl began. Next room was the 'Borg' stop. We hit a minor snafu in that there were no cups. A quick elevator ride back down to my room and a fight to get back to the 'Borg' room – including 4 flights of stairs – and we were back in business.
From the 'Borg' room, we journeyed over to the Hyatt for 'Mardi Gras' in the International Tower.
Next was the deadly Teenage Mutant Ninja Turtle room in the Radius Tower at the Hyatt. I did make a public announcement that if you had never consumed Absinthe before to BE CAREFUL, it WILL kick your butt. Some listened, some didn't.
The TMNT won a special award for causing the most memory loss among participants – Cricket; your Fez is on the way!
Next, we journeyed, well some staggered, back to the Marriott. It was time for HELL! The Hell room was amazing. The red lighting, the dry ice and awesome drinks and lots o'spicy snacks.
Jed did some AMAZING radio clips as part of their theme but the noise level made it impossible to hear them. I did have them posted here but Gabcast blew up on me. I'll try and find a new host!
Our last stop was the Stark Industries Mixer. They went all out. Josh, Kyle, Jesse and Zach were dressed to the nines. Zach was security; your name was taken and checked at the door. The room was illuminated by the glowing 'ice cube' in each drink. Once all participants were present, a quick welcome was made by Jesse and Zach queued the music by asking Kyle to 'lay down a fat beat'. That is when the AC/DC started. It was the last room full of Pub Crawl drunks. There was much socializing, friendship and things I'm sure I don't want to know about going on in the dark.
I have to brag on Kyle and Zach as this point. Going into the room, Zach would not break character. I was trying to breeze in before everyone else and he would not let me by without giving my name and checking his list. Annoying yes but I was highly impressed. Way to go Zach!
Kyle was also incredible. If you wanted a drink, he got you a drink. If you ask him a question, you were given a quick response followed by 'Ma'am' or 'Sir'. At one time I was harassing him about being so straight laced and formal and the only answer I received was 'Yes ma'am. Thank you ma'am.' Kudos to Kyle for staying in character for the entire Stark Industries Mixer – especially after partaking at five previous pub crawl stops.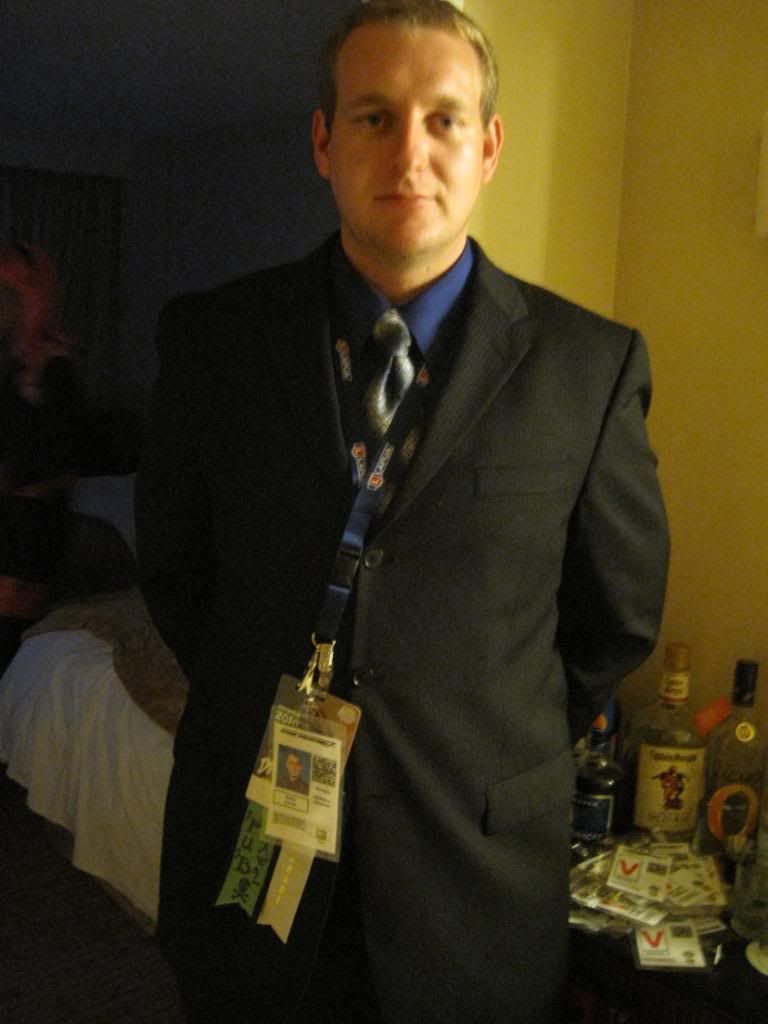 At 10:15p, I made a grand announcement that if you were present – we had lost a few on the way – you had successfully completed the 2010 D*C Poor Man's Pub Crawl. I told everyone I loved them but to get the hell out.
After some Pub Crawl after-party fun, it was off to bed. It was going to be an early morning for the Black Bunny Crew!
Wednesday, September 22, 2010
The morning started with a text message. All week, I wasn't sure if Kindra was going to make D*C. Her grandmother had been in the hospital and had been released just the day before, on Wednesday. Needless to say, I was ecstatic when I read my text message from Kindra that not only was she going to make it but she was currently checking in to the Hyatt!!!

We met Jesse, Kyle, Donna and Harris in the lobby and walked over to the food court for breakfast. Everyone grabbed what they wanted and we reconvened at a table in the middle of the food court. As I was about to take my first bite, I noticed someone standing by the corner. AS I glanced up, I saw that it was Kindra, Conner and Paul. I jumped up, ran off, gave them a hug and then stole Conner from his stroller. It was the first time I had seen him since the day he was born.

After all the excitement, we finished breakfast and all made our way to the Pre-Reg Line. In years past, registration had not started until 2p or 3p. This year it was scheduled to begin at 10a. We wanted to be there early and hoped for a short wait. When we arrived at 9:30am, the line was down the sidewalk of the Sheraton and about to round the corner to the back.


I was a little disappointed. I thought the line would be shorter. What I failed to realize is that the line was completely formed outside on the sidewalk. There was no one in the Sheraton. When they opened the doors, the line moved swiftly into the cattle chutes known as the pre-reg line. Before then, I never realized just how many turns there was in the line. When you move slowly, it doesn't really compute. When you are almost running, it seems like a million turns. We finally came to a halt about three rows from the letter break-out lines. Darrell and I were lucky; we were in and out in about 30 minutes. Some of the others took longer.
While I was waiting for the rest of the crew to finish, I went around to pick-up the Black Bunny parade ribbons. I asked a cute little blonde if they were ready and she replied 'yes'. Since I can never remember what name I put the ribbons under, I started with my real name. All of a sudden the cute little blonde said, "I know you." I had no response. I thought, I flipped through all the mental index cards and I could not place her anywhere. Finally she said, "I used to be married to Chip." Then it hit me. This was the girl Chip had dated and then married after we broke up back in college. As I was taking all of this in, she was checking the list for my name. After she didn't find it under my real name, I asked her to look under Annabella Griffin. As she was looking, another older lady walked over and said you are the Black Bunny right? I confirmed and then the cute blonde, whose name is Kris, introduced me to her mother – the D*C parade coordinator. What a small world! That was my surreal moment of the weekend.
Once we all had our badges in hand, it was back to the Marriott. It was late Thursday morning and everyone was arriving for D*C. There were luggage carts piled as high as allowed for as far as the eye could see in the lobby. Several of us grabbed seats in the Pulse Loft and watched the insanity ensue. After visiting, socializing and helping dye Donna's hair, I headed back up to the room. I had to confirm the Thursday night dinner reservation at Max Lager's. At the time, I had about 15 confirmed for a 7:30p reservation.
Around 6:30p, we headed to Jesse, Kyle and Josh's room and then down to the meeting place in the Marriott lobby. Everyone was prompt. By 7p, we started making our way over to Max Lager's. We arrived about 7:15p and were seated by 7:25p. They put us in the back – a good decision on their part. We have a tendency to walk around and mingle.
As we were leaving the restaurant, someone mentioned that Luke Perry, a D*C guest, was sitting at the bar. Sure enough, a quick run and peek inside confirmed it. That was our first star sitting outside the Walk of Fame.
After dinner, there was more socializing around the Marriott. We determined by the sheer number of people and number of costumes that Thursday was the new Friday, which meant Wednesday was the new Thursday – it made us feel better about checking in so early. Jesse couldn't stand it any longer and had to go put on his Ghostbuster's costume. While he was changing, Darrell and I were on a mission to find Timmy. Timmy is the stuffed monkey mascot from ThinkGeek.com. I knew this would be my only opportunity, so I was monitoring the Twitter feed. It paid off, I found Timmy on the main Marriott lobby level wearing his Slave Leia costume.
The rest of the evening was spent admiring all the costumers in the lobby.
As always, I end the night with a Marriott Lobby shot from the 9th floor.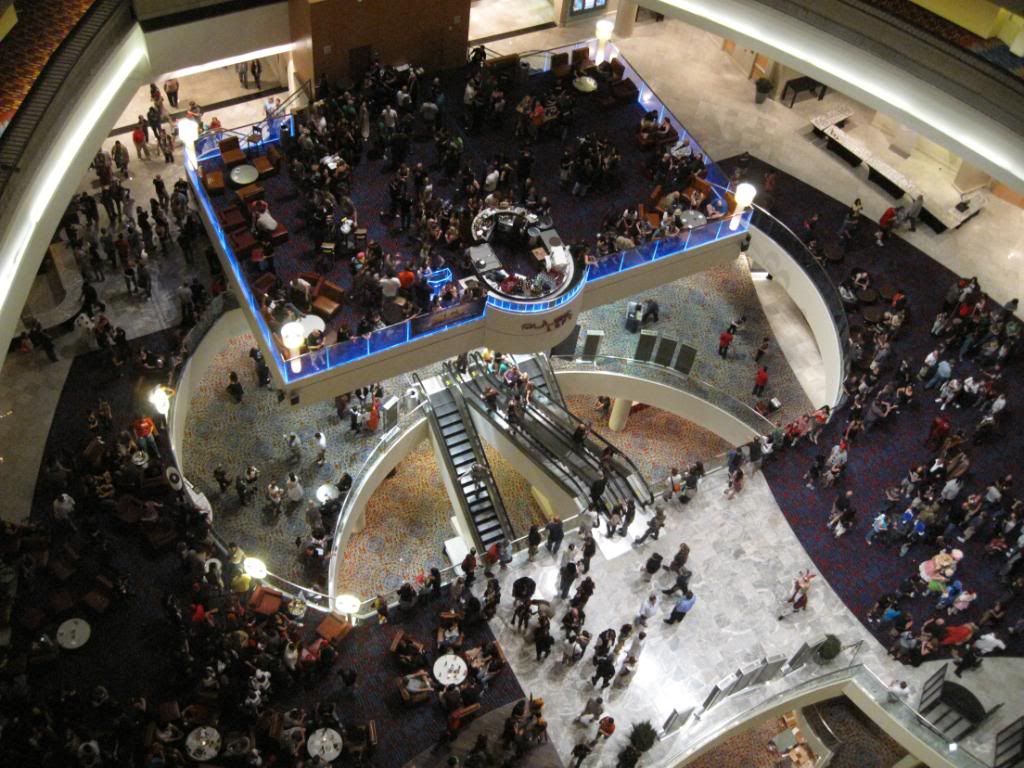 Posted by

Annabella
at 10:35 PM
0 comments

Dragon*Con 2010 was exhausting; fun, but exhausting. Even getting there one day earlier than normal didn't seem to lessen any of the insanity of the weekend.

We headed up to Atlanta on Wednesday this year. Usually, we head up on Thursday morning. Over the past few years, it seemed the Thursday load-in at the hotel was so crazy and crowded we decided to try it a day early.

Before heading out, we had to make one stop. Jesse had to get a haircut. He was prepping to do his Les Grossman at Dragon*Con and he was going all the way. All he had left was the haircut and he only trusted his regular barber.


After the shock of seeing Jesse with only half-a-head of hair, we ran by Chick-fil-a for breakfast. By the way, the 'we' consisted of me, Darrell, Jesse and Kyle.
We arrived at the Marriott by 10:30a; about the same time as Donna & Harris – good timing! We were all checked-in and to our rooms by 11a. Darrell and I, along with Donna and Harris were given rooms on the 9th floor. Jesse, Kyle and Josh had to settle for the 8th floor. Donna and Harris had been given the last double on the 9th.
Once the luggage, two carts worth, made it to the room, it was time to start unpacking. I am very particular when setting up my room at D*C. First, all unnecessary hotel items are stowed in the top of the closet. This includes but is not limited to coffee makers and accessories, glasses, bibles, room menu's, tourist books, and the not-complimentary $5 dollar bottle of water. Once that is done, it is time to rearrange. We need a bar, a place for ice and drinks, a snack area and the important laptop space. This is usually trial and error. This was our second year in the Marriott so it moved quicker this year than last year.
| | |
| --- | --- |
| | |
Once the room was settled, it was time to do a little visiting and determine what we were going to do for dinner. We decided on Meehan's for dinner. Meehan's is a newish Irish Pub one block up and two blocks over on Peachtree Street. At dinner I found a kindred spirit in Harris – we both love salt and vinegar chips so, of course, we had to order the homemade ones on the menu! They were good but I could have stood a little more vinegar on mine. Over all dinner was good. Darrell loved the salmon and my salad was delicious (I felt guilty about the chips).
After dinner, we wandered back to the Marriott and adjourned to the empty Pulse Loft. This is one of my favorite places during the convention. It gives one a unique view of one of the busiest floors in the Marriott during D*C. It was actually kind of creepy to see how empty it was on Wednesday night.
We all decided to turn in early. We made plans for an early breakfast and to arrive early for the Pre-Reg line on Thursday.
Posted by

Annabella
at 10:18 PM
0 comments