Thursday, September 10, 2009
I actually awoke at a decent hour Friday morning. After getting ready, I walked down to Jesse's room. He and Bob were watching DCTV and combing over the Dragon schedule. I asked if anyone wanted to walk to the Sheraton with me but had no takers. I headed out by myself. As I walked through the Marriott Lobby I noticed a line outside the Atrium Ballroom. I wondered what event had people lined up at 9am? I asked and soon discovered it was the OVERFLOW from the Shatner/Nimoy Panel that was scheduled at 10am in the Hyatt. The actual Panel room was filled to capacity by 8:30am.

I continued on to the Sheraton. I needed to pick up the Black Bunny Crew parade ribbons. We had gotten our memberships so late the night before that the parade table had already closed. On the way over, I walked by the Metro Diner. Even they know about D*C's reputation.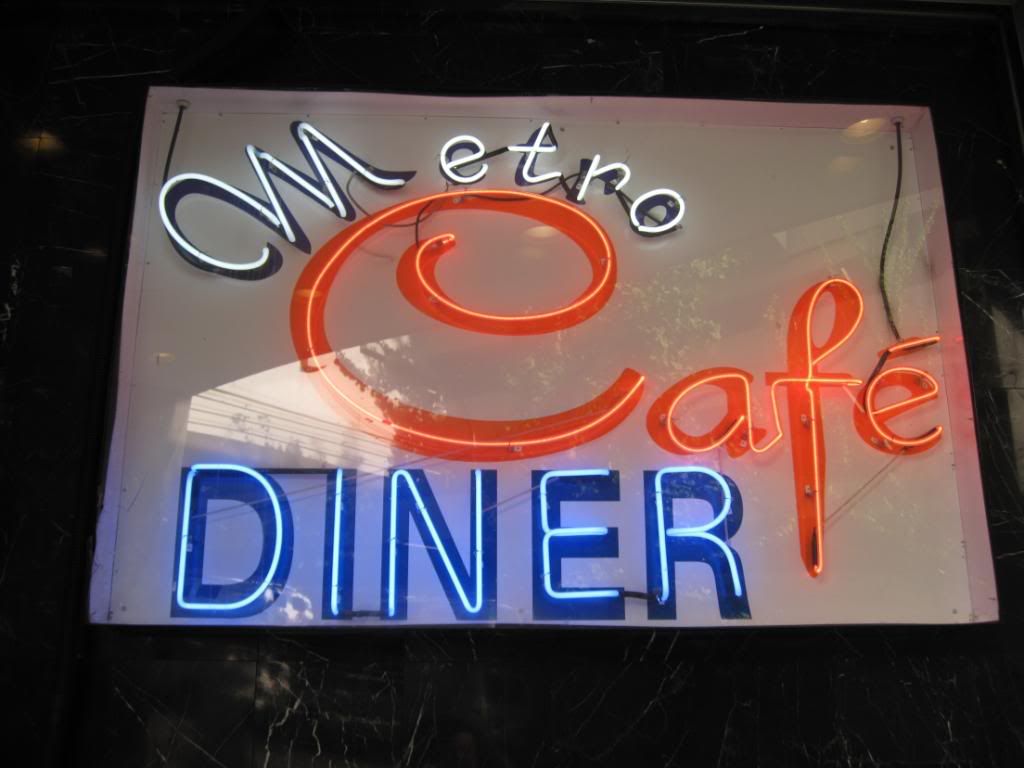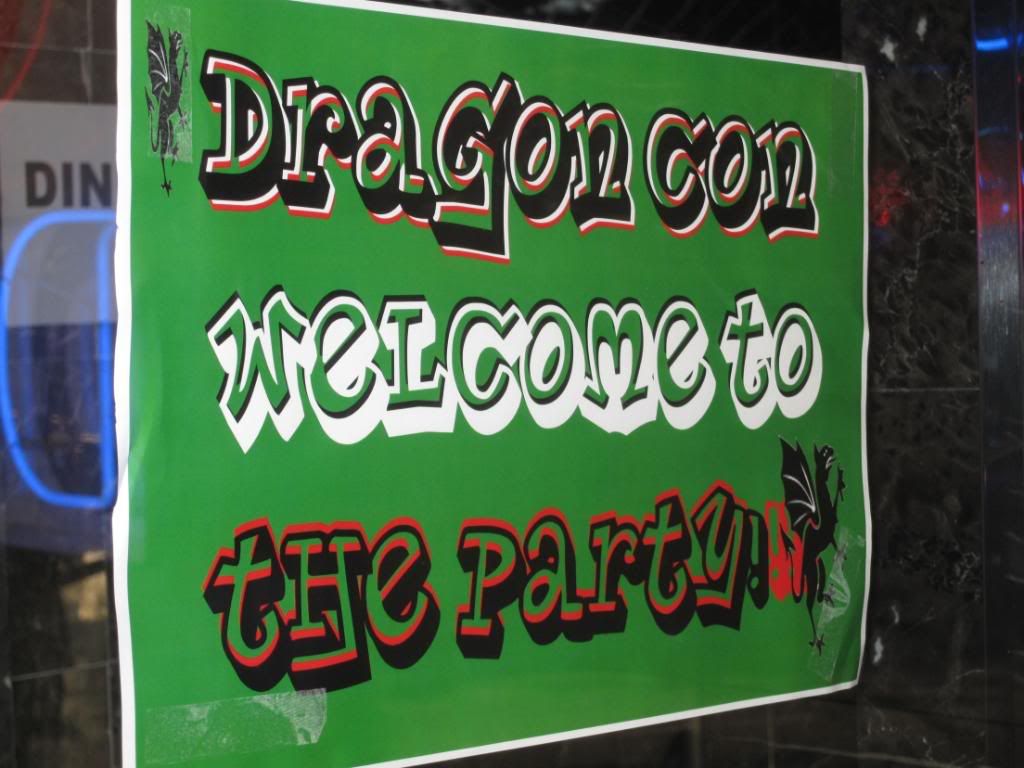 With Parade ribbons in hand, I walked back to Peachtree Center to pick up some breakfast for me and my still sleeping husband. I had to do a double take as I walked by one of the displays in a trendy boutique. At least they were trying to get into the spirit of things….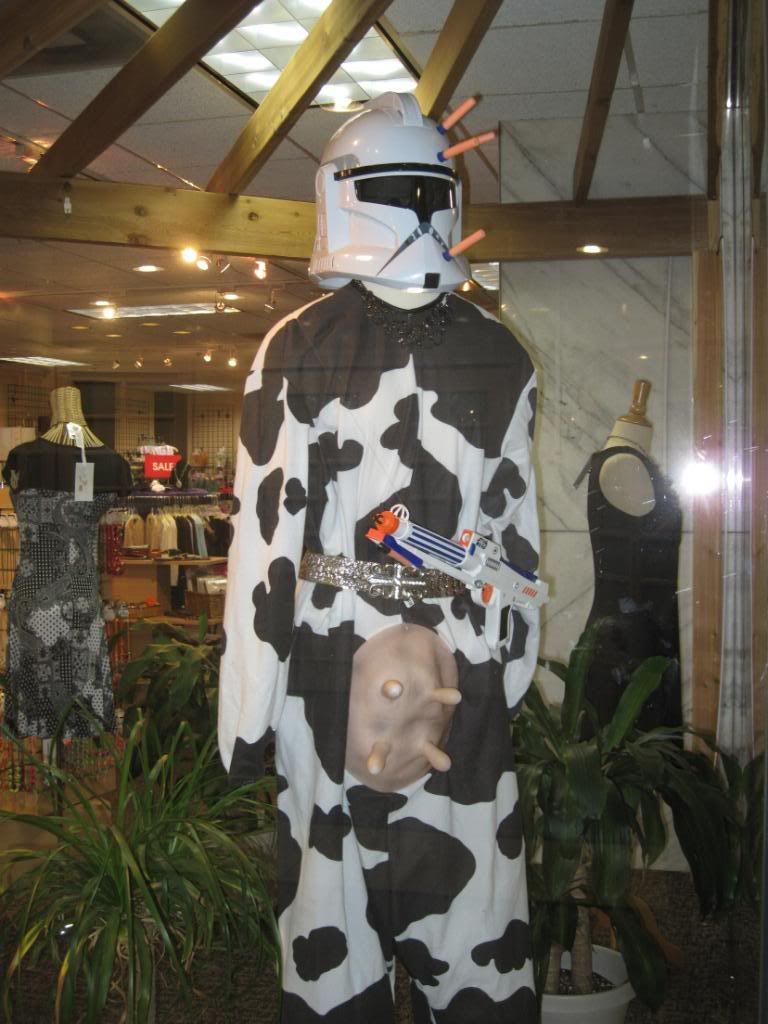 Back at the room, Darrell and I watched the Shatner/Nimoy Panel on DCTV. It was much funnier than I expected. I learned that Leonard Nimoy lived in Atlanta for 1 ½ years, when he was stationed at Ft. McPherson. His daughter was actually born at Ft. McPherson. Who knew?
I spent the afternoon catching up on some last minute costuming chores. Luckily the beautiful Kindra came and kept me company for awhile. In the mean time, Darrell was walking around the con taking some pictures.
It didn't take long for Bob to get the itch to play Emperor again, so Jesse and Darrell got him ready and took him down to the Marriott Lobby.
By this time, it was late in the afternoon and I needed to prepare for Pirate Tea. Pirate Tea is when we all gather and figure out the plans for the parade on Saturday morning, like who needs costuming, meeting time, meeting place, pictures, parade ribbons, beads, flag, etc. It is short and sweet – sort of like Happy Hour. During Pirate Tea, we had a visit from Harris and the ever lovely Erin the Esurance girl (aka Donna). She and some friends were walking around as Erin Esurance, the Geico Caveman and Flo from Progressive Insurance. I wish I could have seen them all together.
This year was a bit different. This year Pirate Tea not only served as the parade planning meeting but it kicked off the 1st Annual Poor Man's Pub Crawl. It is a simple concept, really the same as a traditional pub crawl only you go room to room instead of pub to pub. Each room has to provide one drink to each person participating in the pub crawl. There was a great response when I sent out the concept email and we ended up with seven rooms participating and about 25 people. That averages to just over 3 1/2 people per room – actually a low number for a D*C. Along the way, we lost some people and gained others. Here we are at the beginning of the crawl and no the child did not accompany us on the pub crawl. He was safely tucked away in bed in his own room with daddy.
From my room, it was off to Josh, Kristin and Kyle's room. There we were met with plastic fedoras, plastic martini glasses full of a sweet concoction and Frank Sinatra playing. You have to love props; especially ones that you get to keep. I wore my hat all night long.
Our next stop was at Jesse's room. He was serving Melon Balls to drink. The theme was a mix of 'Harold & Kumar Escape from Guantanamo Bay' and 'Tropic Thunder'. Think "Rock with your cock out and Jam with your clam out" with Ludacris playing in the background. You just thought Jesse was so innocent. We tried to get him to do the Les Grossman dance but to no avail. Maybe next year.
The next room brought us all back to the 70's. Deneen, K, Nikki and David dressed the room and themselves. You had to love this room. Strands of peace-signs hanging over the door, giant window clings, disco music and David in a flammable, white, Saturday Night Fever, disco suit – PRICELESS!
Bob was supposed to host the next stop at his room in the Hyatt. Instead, we were redirected back down to Jesse's for Hurricanes. There will be more on this turn of events later. Much, much more….
After Hurricanes, Darrell joined the walk. He had been getting into his 'Fleam' costume. We journeyed to the 16th floor of the Hyatt Atrium. The Hyatt has been remodeled and the rooms look great but I absolutely hate that atrium elevator. While waiting (and waiting), Fleam posed with a couple of friends…
At this point, the group began to dissolve away. Jesse, Josh, Kristin and Kyle headed over to the 'Dr. Horrible Sing-a-long Blog' and for some reason Bob exited the elevator on the 9th floor and was never seen again that evening.
There was a large variety of drinks in the 16th floor room in the Hyatt Atrium. I would use the actual room number but I can't remember those details. One of my favorite pictures from the night was taken on this stop. I don't know why, I just love this picture of Cricket. I think it's the fairy wings.
The last room was in the International Tower of the Hyatt. That is where Beau made me 'Chocolate Cake Batter' shots. Now, I had never experienced these delights. He handed me a shot that was a pale yellow color and a lemon wedge covered in sugar. I was instructed to suck all the juice out of the lemon, discard the wedge and drink the shot with the lemon juice. I did and it tasted just like chocolate cake batter!!! It was incredible. I still don't know how all those liquors and flavors produced that taste but they did and it was good. Not many people made it to the last room. It really was a shame because they had some of the best drinks.
I am proud to say that I was one of only three that made it through the entire crawl. The other two were Kindra and Paul. I think we deserve an award. Speaking of awards, we (that would be the 'Royal We') have decided to give an award out for Best Drink, Best Theme and Honorable Mention. It was a tough decision.
The Honorable Mention room is actually Honorable Mention because their theme AND drink was EXCELLENT (ask Bob), that would be Josh, Kyle and Krisitin's room. I mean who could resist plastic fedora's that you can write on AND plastic martini glasses! If I had been a good organizer, I would have gotten all the theme names and drinks but I didn't. If ya'll will email them to me, I'll post it.
The Best Theme goes to Deneen, K, Nikki and David's room. Giant window clings, wigs, costumes, props
and
David in the flammable 'John Travolta' suit from Saturday Night Fever.
The Best Drink goes to Sarah & Beau's room. All I have to say is "Chocolate Cake Batter' shots.
Now I will digress to pub crawl stop #5. This was the one Bob was responsible for hosting. Here is a quick story on how that all went down…
See, we didn't have time to plan the drinking route before the pub crawl. Some people were not checking into their rooms until Friday evening. Therefore, at each stop, I would ask someone if they were ready to be next. If so, I would announce the next room number and the approximate arrival time – so they had time to prepare. Well, Deneen, Nikki, K and David's room was the last room in the Marriott. The remaining three rooms were in the Hyatt. I asked Bob, "Do you want to be the first room in the Hyatt?" – no response. I asked again - no response. At this point I told him I would announce his room next, "What time?" – no response. "Bob tell me a time or I'll make one up" – he said, "OK". So, I announced the hotel, room number and arrival time. It was then that, Jesse informed me Bob's pub crawl drink was back down in his room at the Marriott. So I ask Bob "Are you going to take the cooler to your room at the Hyatt?" – no response. I ask Bob, "Can you function alone?" He shakes his head 'No'. I told him to get a buddy. He points to Jesse and says "He's my buddy." At that point, Jesse and I took over. I announced that the next room would be back at Jesse's in the Marriott and then we would head over to the two rooms in the Hyatt. I went to my room to scavenge cups while Jesse headed to his room to straighten from the previous stop and prep Bob's drink for the evening. Slowly everyone began to show up and I must note that the host himself was last to arrive.
And it is because of this that Mr. Ollis doesn't receive an award but will be the namesake of the award given out each year to the most disorganized, confused, drunk, silliest, etc. whatever trait or behavior truly captures that feeling from the 1st Pub Crawl. They will receive the "Ollis" Award. Bob, you should be so proud.
The Crawl was over and I still had one more chore to do. I had about 100 Black Bunny beads that needed to be stickered. Darrell headed out to the Marriott Lobby and I headed back to the room. Again, the lovely Kindra came to my rescue. With her help, we were done in about an hour. We talked awhile and she decided to leave before I completely konked out on her. I was tired. I don't know how she does it. She is awake when I go to bed and awake when I get up in the morning and to top it all off – she's 13 weeks pregnant. Go figure. I think she is part Super Woman. Just before I headed off to bed, I stepped outside the room and took my over the balcony shot.
Posted by

Annabella
at 4:51 PM