Monday, September 14, 2009
I was up and waiting at the Walk of Fame by 9:30a this morning. My largest indulgence at D*C these days is autographs. The Dealer's Room has not had anything interesting in years. I had my stack of DVD's and was ready to wait my turn for my desired autographs. This year's list of wants were:

Tom Felton (Draco Malfoy) from the Harry Potter movies. I wanted to add his to the 1st Harry Potter DVD signed by the Phelps twins (the Weasley twins).

Malcolm McDowell, who has been in numerous movies. As a matter of fact, I recently watched him filming H2 in my hometown. I had the 'Clockwork Orange' DVD for his autograph.

Karen Allen, best known for playing Marion Ravenwood in the Indiana Jones movies. I wanted her signature on my Animal House DVD. She played Boon's girlfriend Katie. I wanted to add her signature with Stephen Furst's (Flounder) that I had signed a few years ago.

Barry Bostwick, best known as the Mayor from 'Spin City' but also played Brad in the The Rocky Horror Picture Show. Need I say more?

Doug Jones, the Chameleon of actors. He played the zombie Billy Bones in Hocus Pocus, the Silver Surfer, Abe Sapien, the Chamberlain, and the Angel of Death in the Hell Boy movies, Pan and the Pale Man in Pan's Labyrinth. He is the one actor that you never really get to see. He is a wiry contortionist that is always encased in latex. He is also a SUPER nice guy. He takes time to talk to his fans. A very tactile fellow. He truly enjoyed petting Michael's head. I'll have to see if I can up load the video.

Out of all my wants, the one I was willing to give up first was Tom Felton. I am a huge Harry Potter fan. In the last movie, Draco was by far my favorite character. I also knew there were lots of people willing to wait in very long lines for his autograph. As I said, I was there by 9:30a and the Walk of Fame did not open until 10a. I was lucky enough to be in the first wave admitted into the room. As everyone filed in around me, I headed toward Tom Felton. I knew it was going to be the longest line of everyone on my list. As I approached his table, I noticed most people making a bee line to the Star Gate stars. To my utter amazement, I was the first person in the Tom Felton line. Other that the British accent , he looked like and came across as a California surfer dude. He was pleasant but not over friendly. That did not disappoint me in the least. Over the years, I have learned that is very typical for the more sought after stars.

After I had Felton's signature, I headed over to Karen Allen. I really didn't have a choice since Bostwick, McDowell nor had Jones arrived. Again, very friendly but not much unnecessary conversation.
>
As Karen was signing my Animal House DVD, Barry Bostwick arrived. I jumped over to his table and was lucky enough to be first in line for him as well.
>
Now, all I had left was McDowell and Jones and neither of them had arrived. This was about the time I ran into Michael. I didn't surprise me a bit that he was in the Walk of Fame. He is an avid autograph collector and has the largest collection of autographs that I have ever seen. We walked up to McDowell's table and saw that he supposed to arrive at 11a. It was already 10:30, so we decided to wait. Michael already had multiple McDowell autographs but spotted a picture of McDowell & Zombie from the Halloween movies and just had to get it. McDowell actually arrived a little early and Michael and I were the first in line. Not only were we able to get the autograph but he was one of the stars that was allowing photographs.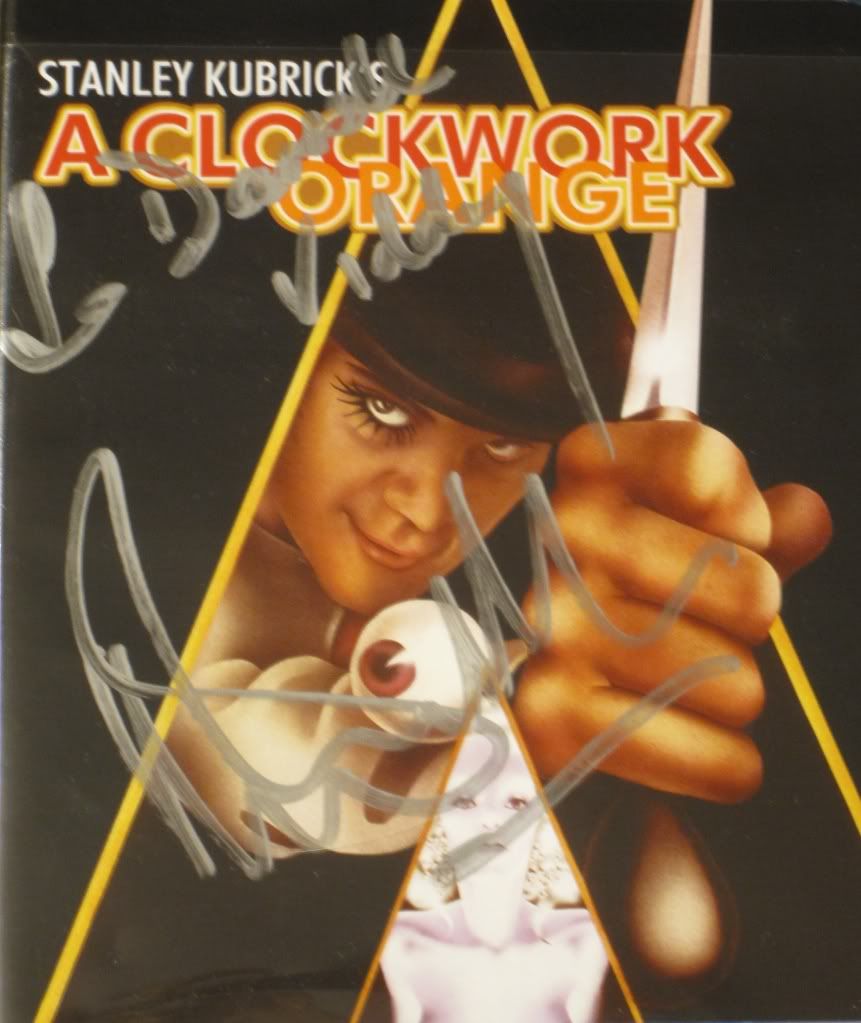 >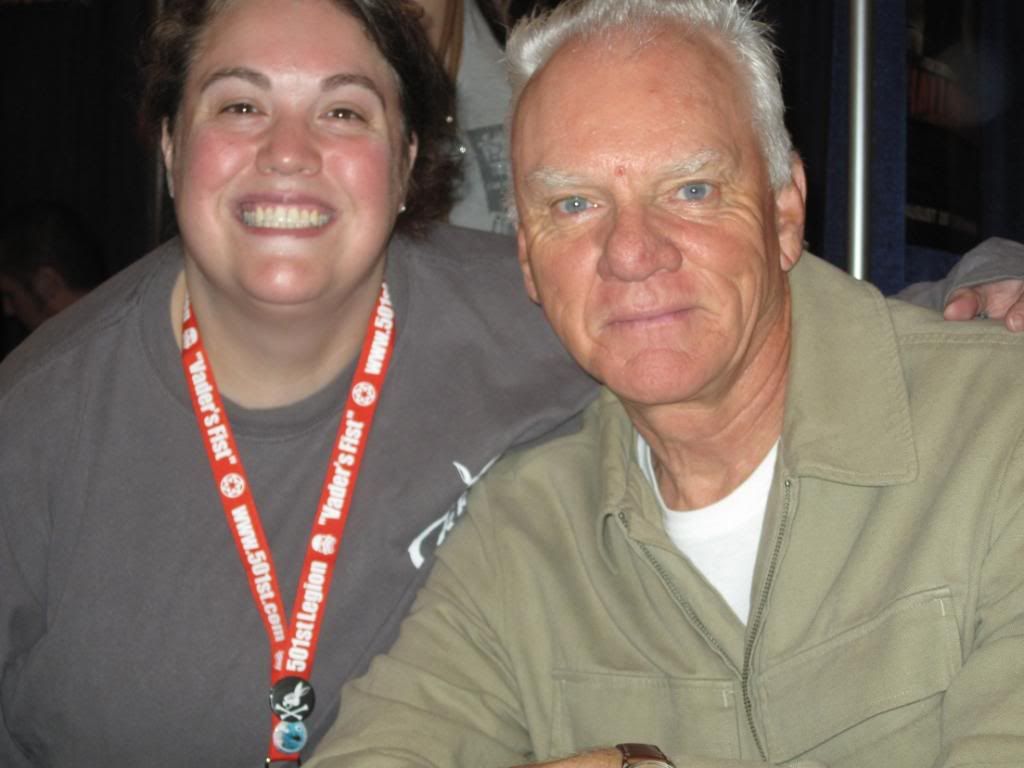 >
A nasty photograph phenomenon has reared its ugly head in the last few years at D*C and it is very unfortunate. It used to be that if one waited in line, they could get autographs and photos with all the stars. Then if you did not want to wait in a line for a personal autograph or photo, you would could just snap a picture from the side. Most of that has ceased to exist. Just snapping random photos in the Walk of Fame is no longer allowed. It is probably one the most ridiculous rules instated by D*C. Now, you have several different photography situations in the Walk of Fame. First, there are the stars that only allow photo sessions with approved, professional photographers. Tom Felton fell into this category. Next are the ones that charge extra for a photo. This group included Karen Allen and Barry Bostwick. Lastly, there are the actors that gladly do photos when you get their autographs. Just like the good ole' days. These are the stars that are the most enduring to my heart. They simply come across as thankful to have fans rather than the fans should be thankful for them. This year, those actors were Malcolm McDowell and Doug Jones.
Speaking of Doug Jones, after I had McDowell's autograph, his was the last I needed. Michael and I wandered down to his table and saw that he should be arriving at 11:30a. We decided to wait. Michael already had Jones autograph but waited with me just to see him again. Jones had made quit the impression on Michael on Friday. Well, 11:30a came and went. Jones' handler changed his arrival time to 11:45a. Then 11:45a came and went. Lastly, he changed the arrival time to 12 noon. About 11:50a, Doug came walking into the Walk of Fame and repeatedly apologized for being late. Before he could get seated, Kane Hodder (Jason from the original Friday the 13th movie) walked down and scolded him for making us wait. He told him that Michael and I had been waiting for nearly an hour for him. On that note, Doug grabbed some comic books he had tucked under the table and handed them out to the 20 or so people in line and told them he would sign it at the table. Luckily, Michael and I were first in line. Doug signed both my Hell Boy (for Darrell) and Pan's Labyrinth (for me) DVD's plus the comic book. He came out from around the table, gave me a big hug and took a picture. He did the same thing with Michael. The entire time, we just made conversation and thanked us for being fans. Just one Doug Jones can make up for what everybody else lacked. I'm so glad his was my last experience in the Walk of Fame.
>
Once we finished there, Michael and I headed to the Dealer's Room. I made it about half-way through before I realized I needed to head over to the 501st fan table. Darrell and Jesse had table duty from 1p – 2p and Donna was supposed to be there in her Wonder Woman costume.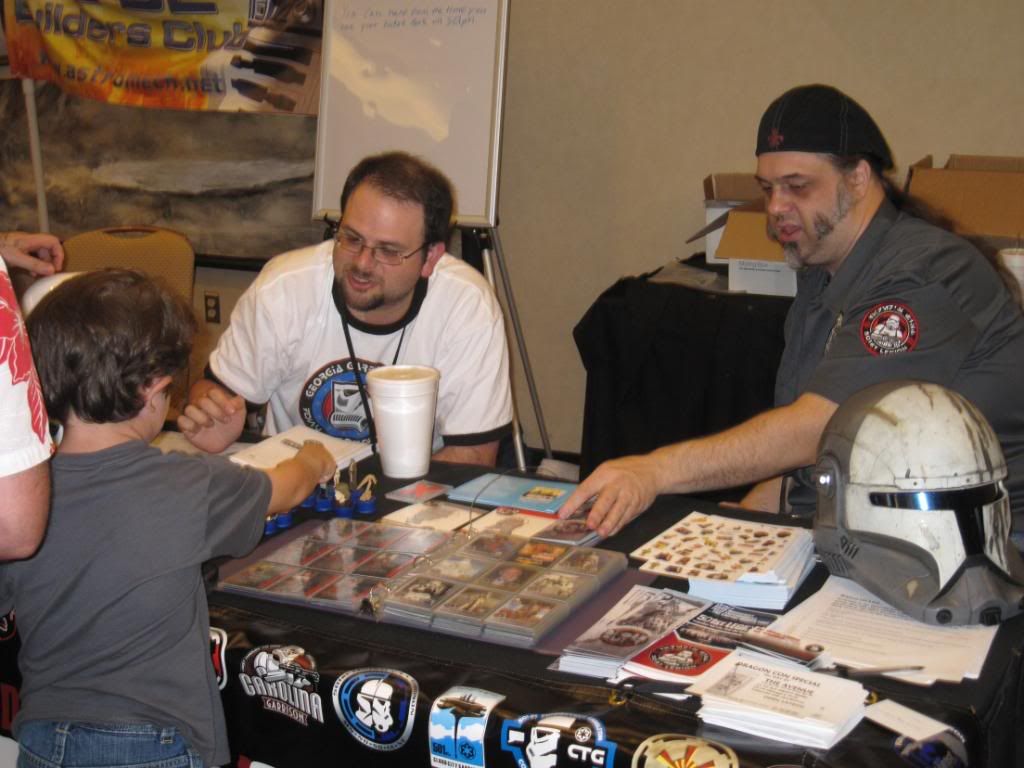 >
I arrived about 1:30p and finally got to see Donna. She had one of the best Wonder Woman costume's at D*C!
>
My next assignment was to head to the Hyatt lobby and re-direct any Storm troopers to the new Comcast photo shoot location in the Hilton. Michael caught up with Darrell and me in the Hyatt and hung out with us while rounding wayward Storm troopers. We ran into Circus Envy doing his Santa impression in the lobby.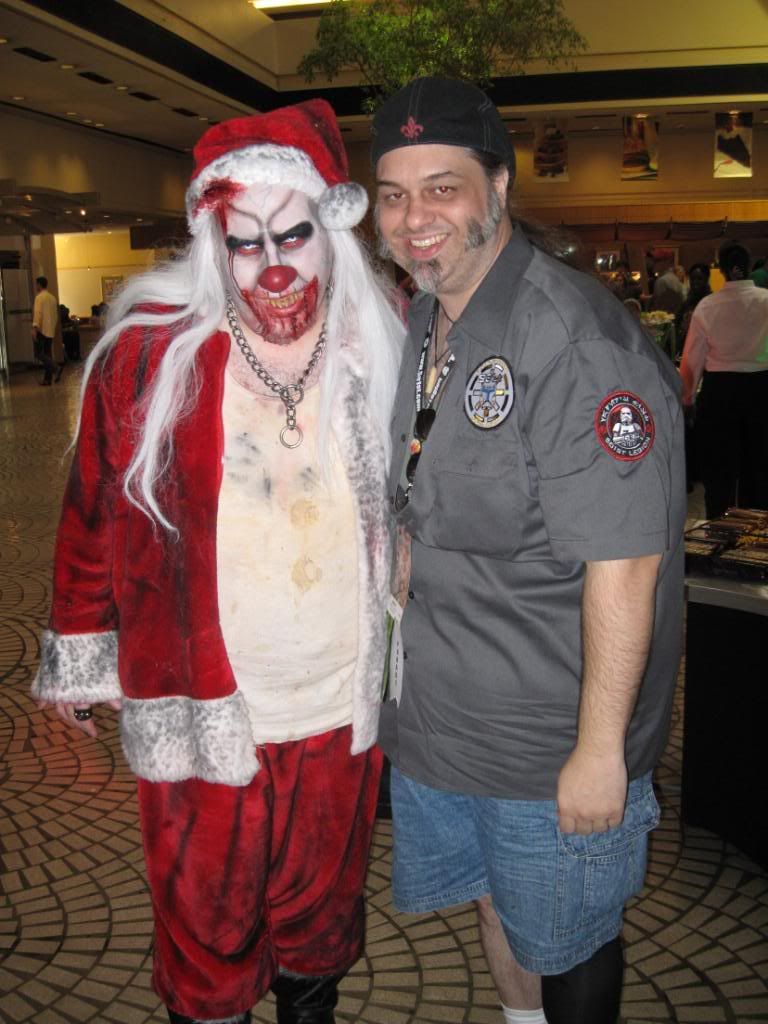 >
By 3:15p, we were headed back to the room. I took some time to straighten the room, prep it for the Masquerade that night and download some of my photos and Darrell's photos to my laptop. In the mean time, Jesse put Bob in the Emperor and Kevin in Vader and took them to the lobby.
>
Slowly, visitors came trickling in. Deneen and K came down. Kindra and Paul came over. Nikki, Sarah and Gig stopped by for a few minutes and the Kuipers came by to visit. Before I realized, it was 8pm and the Masquerade was starting in 30 minutes. I ran to the food court to grab Darrell and me some dinner. We actually crammed 17 people in to the room; Bob, Kevin, Darrell, Josh, Kyle, Kristin, Kris, Jane, Deneen, K, Will, Cricket, Michael, Kindra, Paul, Jesse and me. I wish I had taken a picture!
After the Masquerade, it was back in costume and to the lobby. Deneen didn't want to wear the full Imperial Officer so we improvised a sexy number with the leather corset.
>
Much fun was had for the rest of the night doing fun, obnoxious and slightly obscene photos!
>
I think I was so exhausted by this time, I completely forgot the over-the-balcony shot!
Posted by

Annabella
at 4:50 PM