Friday, September 24, 2010
I was up and out early Friday morning. I went with Jesse and Kyle to the True Blood panel at 10a. The panel was fun and entertaining. The best part, I got to see my beloved Lafayette in person.


After that panel, I ran down to Froggy's to find out when my True Blood pictures were scheduled for today. I was to be back around 1:30p. That gave me just enough time to grab lunch and get ready. I texted Kindra the time. I wanted her in the picture with me.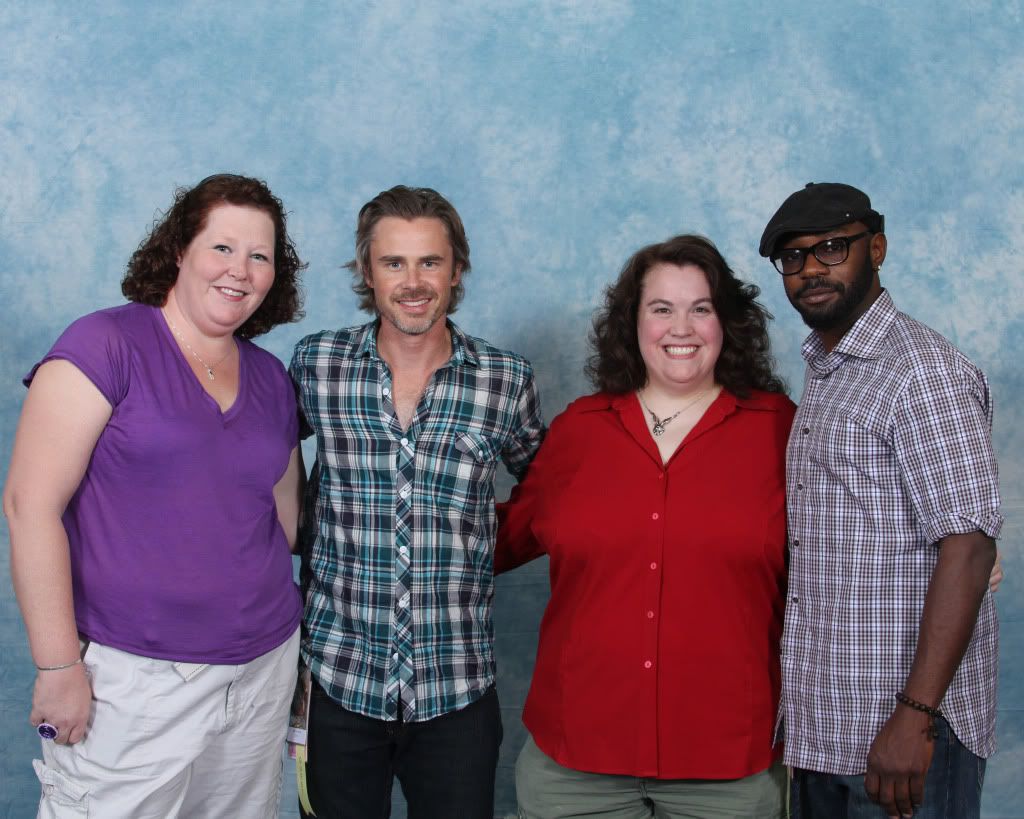 After the picture, I walked back up with 'Pam' (Kristin Bauer) from True Blood. She was very sweet and didn't seem to want to run away from her fans like some celebrities.
I had time for a quick run through the Dealer's Room with Jesse before I went back to the room to prepare for the Poor Man's Pub Crawl. Darrell was a sweetheart and ran to the food court and brought dinner back to the room for me. After dinner, I began staging the Pub Crawl ribbons and mixing the Tiki Tea. I even managed to handwrite a couple of Pub Crawl schedules for those who wanted them.
At 6:15p, folks started arriving. After taking care of all the ribbons and making sure everyone had a drink, it was time for the 'Group Photo'. There were so many participants at Tiki Tea; I had to take the photo in two parts.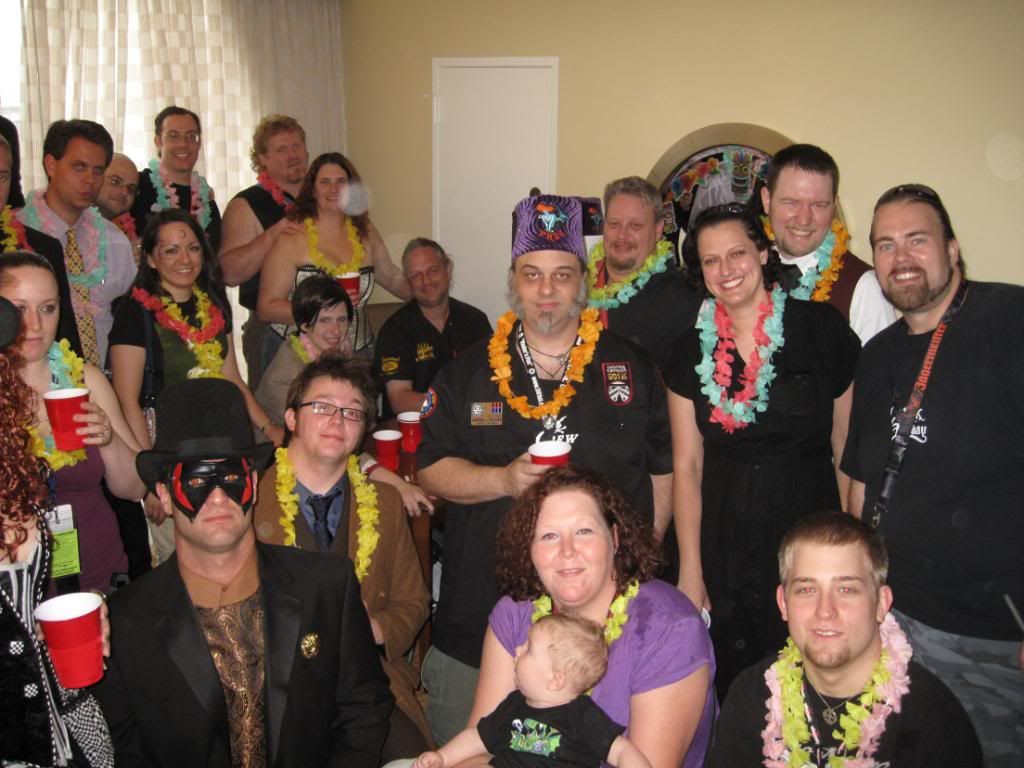 Thus the Pub Crawl began. Next room was the 'Borg' stop. We hit a minor snafu in that there were no cups. A quick elevator ride back down to my room and a fight to get back to the 'Borg' room – including 4 flights of stairs – and we were back in business.
From the 'Borg' room, we journeyed over to the Hyatt for 'Mardi Gras' in the International Tower.
Next was the deadly Teenage Mutant Ninja Turtle room in the Radius Tower at the Hyatt. I did make a public announcement that if you had never consumed Absinthe before to BE CAREFUL, it WILL kick your butt. Some listened, some didn't.
The TMNT won a special award for causing the most memory loss among participants – Cricket; your Fez is on the way!
Next, we journeyed, well some staggered, back to the Marriott. It was time for HELL! The Hell room was amazing. The red lighting, the dry ice and awesome drinks and lots o'spicy snacks.
Jed did some AMAZING radio clips as part of their theme but the noise level made it impossible to hear them. I did have them posted here but Gabcast blew up on me. I'll try and find a new host!
Our last stop was the Stark Industries Mixer. They went all out. Josh, Kyle, Jesse and Zach were dressed to the nines. Zach was security; your name was taken and checked at the door. The room was illuminated by the glowing 'ice cube' in each drink. Once all participants were present, a quick welcome was made by Jesse and Zach queued the music by asking Kyle to 'lay down a fat beat'. That is when the AC/DC started. It was the last room full of Pub Crawl drunks. There was much socializing, friendship and things I'm sure I don't want to know about going on in the dark.
I have to brag on Kyle and Zach as this point. Going into the room, Zach would not break character. I was trying to breeze in before everyone else and he would not let me by without giving my name and checking his list. Annoying yes but I was highly impressed. Way to go Zach!
Kyle was also incredible. If you wanted a drink, he got you a drink. If you ask him a question, you were given a quick response followed by 'Ma'am' or 'Sir'. At one time I was harassing him about being so straight laced and formal and the only answer I received was 'Yes ma'am. Thank you ma'am.' Kudos to Kyle for staying in character for the entire Stark Industries Mixer – especially after partaking at five previous pub crawl stops.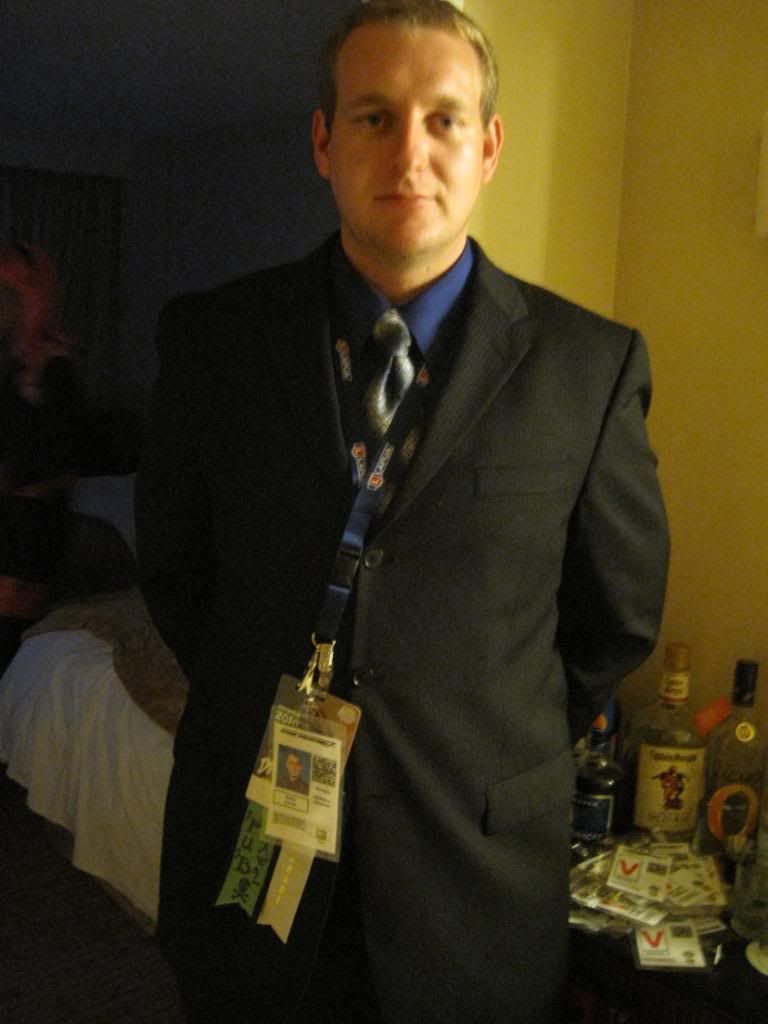 At 10:15p, I made a grand announcement that if you were present – we had lost a few on the way – you had successfully completed the 2010 D*C Poor Man's Pub Crawl. I told everyone I loved them but to get the hell out.
After some Pub Crawl after-party fun, it was off to bed. It was going to be an early morning for the Black Bunny Crew!