Wednesday, September 22, 2010
The morning started with a text message. All week, I wasn't sure if Kindra was going to make D*C. Her grandmother had been in the hospital and had been released just the day before, on Wednesday. Needless to say, I was ecstatic when I read my text message from Kindra that not only was she going to make it but she was currently checking in to the Hyatt!!!

We met Jesse, Kyle, Donna and Harris in the lobby and walked over to the food court for breakfast. Everyone grabbed what they wanted and we reconvened at a table in the middle of the food court. As I was about to take my first bite, I noticed someone standing by the corner. AS I glanced up, I saw that it was Kindra, Conner and Paul. I jumped up, ran off, gave them a hug and then stole Conner from his stroller. It was the first time I had seen him since the day he was born.

After all the excitement, we finished breakfast and all made our way to the Pre-Reg Line. In years past, registration had not started until 2p or 3p. This year it was scheduled to begin at 10a. We wanted to be there early and hoped for a short wait. When we arrived at 9:30am, the line was down the sidewalk of the Sheraton and about to round the corner to the back.


I was a little disappointed. I thought the line would be shorter. What I failed to realize is that the line was completely formed outside on the sidewalk. There was no one in the Sheraton. When they opened the doors, the line moved swiftly into the cattle chutes known as the pre-reg line. Before then, I never realized just how many turns there was in the line. When you move slowly, it doesn't really compute. When you are almost running, it seems like a million turns. We finally came to a halt about three rows from the letter break-out lines. Darrell and I were lucky; we were in and out in about 30 minutes. Some of the others took longer.
While I was waiting for the rest of the crew to finish, I went around to pick-up the Black Bunny parade ribbons. I asked a cute little blonde if they were ready and she replied 'yes'. Since I can never remember what name I put the ribbons under, I started with my real name. All of a sudden the cute little blonde said, "I know you." I had no response. I thought, I flipped through all the mental index cards and I could not place her anywhere. Finally she said, "I used to be married to Chip." Then it hit me. This was the girl Chip had dated and then married after we broke up back in college. As I was taking all of this in, she was checking the list for my name. After she didn't find it under my real name, I asked her to look under Annabella Griffin. As she was looking, another older lady walked over and said you are the Black Bunny right? I confirmed and then the cute blonde, whose name is Kris, introduced me to her mother – the D*C parade coordinator. What a small world! That was my surreal moment of the weekend.
Once we all had our badges in hand, it was back to the Marriott. It was late Thursday morning and everyone was arriving for D*C. There were luggage carts piled as high as allowed for as far as the eye could see in the lobby. Several of us grabbed seats in the Pulse Loft and watched the insanity ensue. After visiting, socializing and helping dye Donna's hair, I headed back up to the room. I had to confirm the Thursday night dinner reservation at Max Lager's. At the time, I had about 15 confirmed for a 7:30p reservation.
Around 6:30p, we headed to Jesse, Kyle and Josh's room and then down to the meeting place in the Marriott lobby. Everyone was prompt. By 7p, we started making our way over to Max Lager's. We arrived about 7:15p and were seated by 7:25p. They put us in the back – a good decision on their part. We have a tendency to walk around and mingle.
As we were leaving the restaurant, someone mentioned that Luke Perry, a D*C guest, was sitting at the bar. Sure enough, a quick run and peek inside confirmed it. That was our first star sitting outside the Walk of Fame.
After dinner, there was more socializing around the Marriott. We determined by the sheer number of people and number of costumes that Thursday was the new Friday, which meant Wednesday was the new Thursday – it made us feel better about checking in so early. Jesse couldn't stand it any longer and had to go put on his Ghostbuster's costume. While he was changing, Darrell and I were on a mission to find Timmy. Timmy is the stuffed monkey mascot from ThinkGeek.com. I knew this would be my only opportunity, so I was monitoring the Twitter feed. It paid off, I found Timmy on the main Marriott lobby level wearing his Slave Leia costume.
The rest of the evening was spent admiring all the costumers in the lobby.
As always, I end the night with a Marriott Lobby shot from the 9th floor.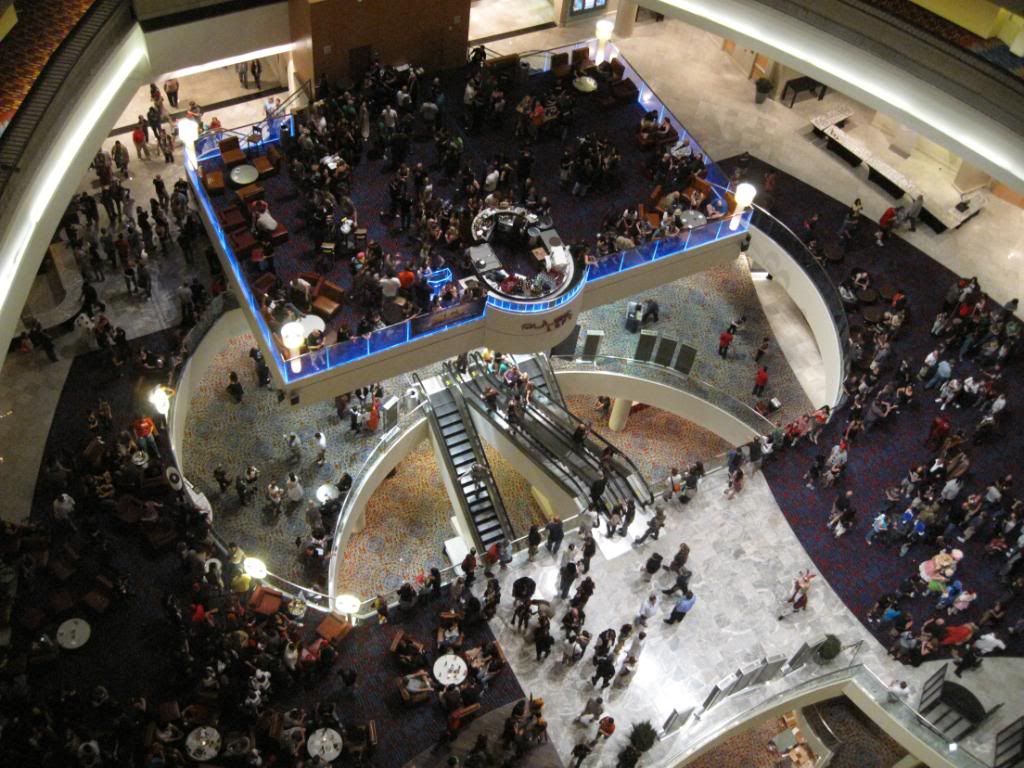 Posted by

Annabella
at 10:35 PM