Saturday, September 25, 2010
Sunday is normally my sleep in morning but NO not this year. I had pictures with Stan Lee at 10a. Normally, I don't do the photos but I couldn't pass up a picture with Lafayette from True Blood and I really don't think I will ever see Stan Lee again.

After the photo, I wanted to hit the Walk of Fame as early as possible. I have discovered that early Sunday morning visits to the Walk of Fame means shorter lines. One of my vices is getting my DVD's signed. This morning I was after Marty Klebba and Lee Arenberg from the Pirates movies, Nelsan Ellis and Sam Trammell from True Blood and Patricia Quinn from the Rocky Horror Picture show.

As I arrived, there was no one at Lee or Marty's tables. I walked up and pulled out my DVD. As they were signing, I told them I had brought them a little gift and asked about their t-shirt sizes. Luckily, I had done some research for Marty's t-shirt. I was prepared. I think they liked the Black Bunny Crew shirts. Marty was a sweetheart. He ran around the table for me to take a picture and then Lee followed suit. They were great guys.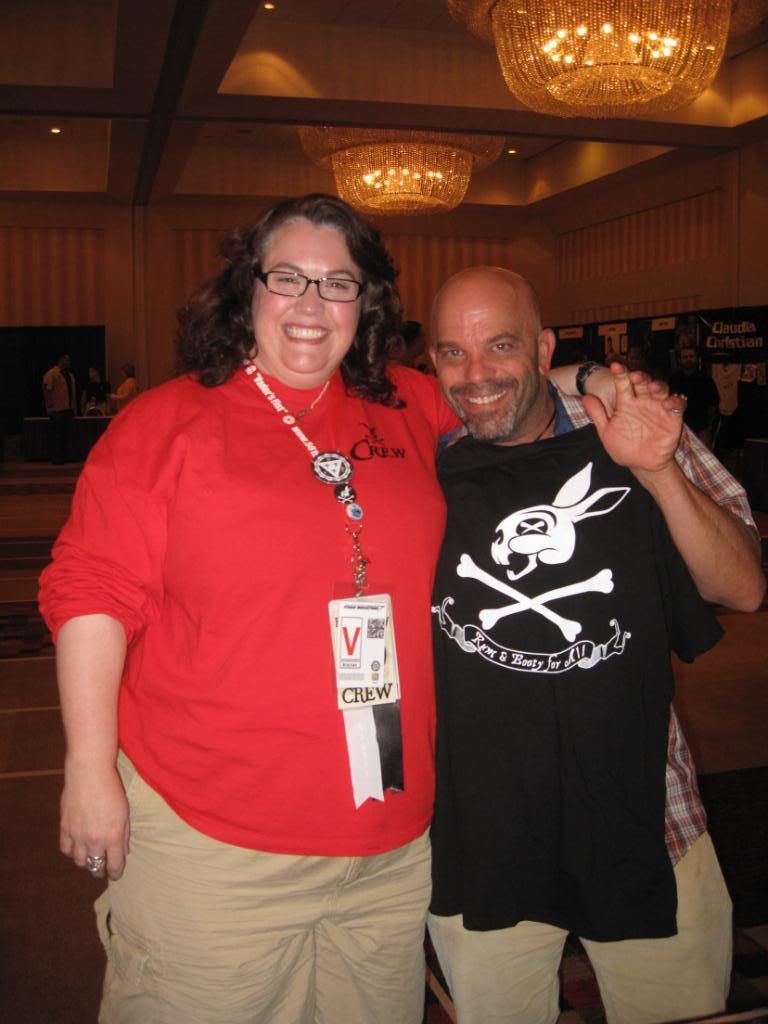 There was a short line for Sam and Lafayette. I will admit, I was impressed by Nelsan. He took my DVD opened it up and then looked at me and said, 'Good morning Captain'. I think he is the first celebrity to actually take time to read my D*C badge. It made me smile. Sam was just Sam. He comes across just like his True Blood character – down to earth and just a nice guy. We was even wearing a plaid shirt and blue jeans.
I was about to walk out of the room when Jesse and Josh walked in. We decided to take one more stroll around to see all the celebrities before heading across the hall. On our way out, Tia Carrere bumped into Josh. He didn't notice who it was until Jesse pointed it out.
We walked to the other side of the Hilton and walked into the smaller Walk of Fame room, I just wanted to lay eyes on the 'I Dream of Jeannie' cast. Larry Hagman (Major Nelson) and Bill Daily (Major Healy) definitely looked their age but Barbara Eden has aged gracefully. She is still beautiful.
Then we wandered through one of the Exhibit all's and back through the Dealer's Room. None of the vendor's really stood out to me this year.
Darrell and I walked back over to Artist's Alley in the Hyatt. That was one thing he wanted to see before the weekend was gone. I stayed awhile but was exhausted. Finally, I told him I would meet him back in the room.
I took a little nap and then started the daunting task of packing up the room. I didn't get it all done but I made good head way.
At 3p, we had a Disney meeting. It seemed to be the only time we could all get together. We discussed meeting times, travel arrangements and all that good stuff. Dtag had some fantastic t-shirts made for us all to wear to MNSSHP and Zach brought us personalized drinks!
The main Sunday event is the viewing of the Masquerade in someones room. It is usually in my room but since Jesse had the bigger room, we all met there. I'm trying to remember how many people we had… Josh, Kyle, Jesse, Zach, me, Darrell, Kris, Jane, Chris, Julian, Patricia, Liz, Steve, Kindra, Paul and Conner. I think that was most of everybody.
The only exceptional thing about the Masquerade this year was Logan. Logan is Diana and Patrick's son. He had been costuming as Ang, the last Airbender at D*C. Denise Crosby happen to see him, get a picture with him and told him to enter the Masquerade – she was a judge. I believe it was his first contest. He won a PS3 for Best in Show in the Children's category. It was nothing but a room full of screams when they announced it.
The rest of the Masquerade was spent questioning costumes, wondering why there was a bored child on stage for the duration of the Masquerade and brainstorming what we could do better – in other words, a typical Masquerade viewing. At least they did play our beloved Duck Dodger's in the 24 ½ Century. I personally think someone should go as Duck Dodgers (Daffy Duck) and 'Eager Young Space Cadet '(Porky Pig) at the next D*C.
Posted by

Annabella
at 9:44 AM