Tuesday, October 6, 2009
Jesse, Darrell and I were at Hollywood Studios by 7:50am for an 8am rope-drop.


Our first stop was Toy Story Mania, us and about 1,000 other people. It really wasn't that bad. The line was out the door but was constantly moving. I think it was about 10 minutes long. Next we wandered through our favorite Villain Store and walked down to the Tower of Terror gift shop.
Jesse and I went over and rode Rockin' Roller Coaster, Single Rider Line while Darrell was busy elsewhere. Then Darrell, Jesse and I rode Rockin' Roller Coaster – yes, again, Single Rider Line.
Jesse had mentioned that he wanted to see the Vader Suit in the Villains display at the end of the Back Stage Tour. Since Jesse had never ridden it before, that was the next stop. He got some great video of Disaster Canyon. Once we were in the Villain display and Jesse got a good look at the Vader suit, he was NOT impressed at all. Darth Maul looked good but Darth Vader was horrible. Regardless, there were many cool props to be seen…
Next we wandered over to the Jedi Training Academy and watched the Padawan defeat Lord Vader (like that would really happen). It's actually a really cute show Disney does with the kids outside of Star Tours.
It was getting close to noon and we were getting peck'ish. We went back to the resort for lunch and a break. Lunch was better than expected in the food court and the deserts (at least the ice cream ones) were unbelievable. Look at the size of my ice cream sandwich – and that was just dessert!
We were back to our rooms by 1:30p. Darrell and I and took a nap. That was the best nap I have taken in years!
By 4p, we were in the MK and meeting up with Steve and Liz at the 'Partners' statue in front of the Castle. They had been through Adventureland, Frontierland and Liberty Square so we followed them to Tomorrowland. We rode the TTA, Buzz Lightyear (I scored 334,900), the cars, Darrell and Jesse rode the Teacups and then over to the Haunted Mansion.
We arrived at the Crystal Palace about 20 minutes before our reservation just to find out they were running about an hour behind. No problem for us, we were not in a hurry. Unfortunately, many people were very upset. I could not believe the attitudes and behavior from these adults. One gentleman stormed off while saying, "I am going to kill that guy" – referring to poor Christopher who was checking in reservations and delivering the bad news. It was unbelievable. I had just dealt with him myself and he was as pleasant and apologetic as a person could possibly be.
We sent Zach a text to let him know that dinner was running late, so he came to visit us before we went in. He just had to try on the light-up tiara Jesse had bought for Cabin Girl!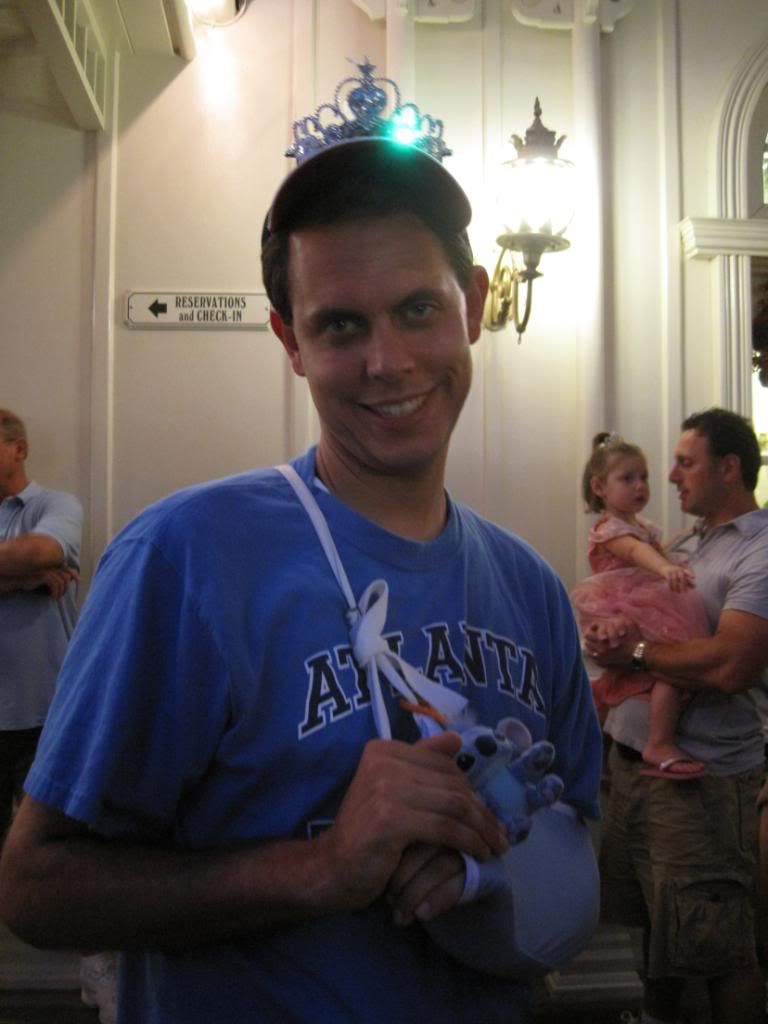 Our reservation was for 7:15p and we were seated at 8'ish. We were all thirsty and starving. Good thing the Crystal Palace is a buffet. We were inhaling our drinks and had the most fantastic server named Sue. No empty glass ever sat on the table for than 2 minutes. She was amazing!
Crystal Palace is a character dinner, so we did get a few good pix with Pooh and friends.
Before we finished, we received a text from Zach that it was raining - really raining. When we walked outside, it was pouring. I just knew my uber spastic planning for rain would pay off one day. Darrell and I pulled out our trusty ponchos and headed off to Main Street with everyone else.
We weaved through the stores and across the street to the Confectionary Shoppe. The rain came down harder. Darrell, Jesse, deTag and I decided to head out. Zach, Steve and Liz decided to stay awhile longer. DeTag and Jesse had no ponchos. They got soaked going to the bus stop.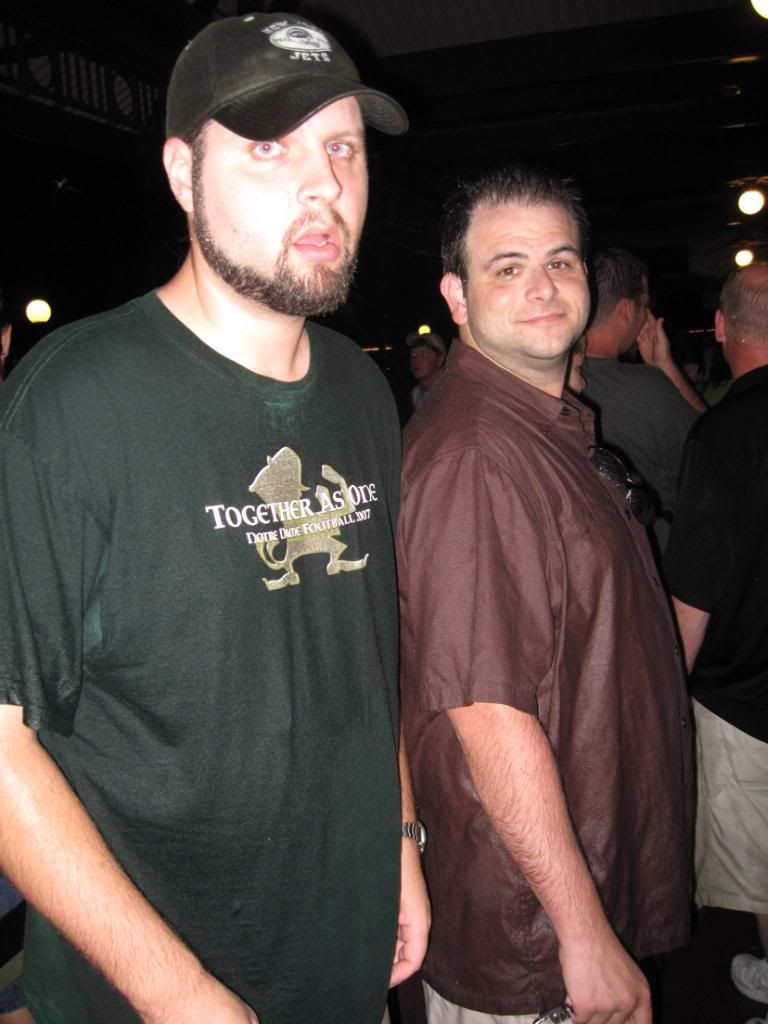 Since I had on Cargo's and a poncho, I carried all of the electronics. I'm glad they stayed dry b/c I was pretty soaked even with a poncho. The bus lines were a nightmare because everyone was leaving to escape the rain. We just waited and talked. We got back to the resort and the rain had stopped. I took a shower and it wasn't long after that Steve, Liz and Zach showed up. DeTag and Zach watched the last quarter of the Notre Dam game (they won against Perdue) while Jesse and I were exchanging pictures from the last two days. It had been a long day, so it wasn't long before I crashed.
Posted by

Annabella
at 8:34 AM