Thursday, October 8, 2009
Today was Animal Kingdom day. While I didn't get up early to head to the park, Jesse and I were up at the crack of dawn to make our 2010 Dragon*Con Hotel Reservations. I tried at 7a and they told they were not taking reservations until 8a. Jesse and I were dialing back at 7:59a. We were both on hold for over 30 minutes. Jesse end his call and tried calling back. I was the first to get a customer service representative. Unfortunately, she was a moron. After several attempts, she simply told me to call back later. Jesse, on the other hand, got someone who knew what they were doing. Thanks to him, we (being him, Donna, Harris, Darrell and me) all have rooms at the Marriott Marquis for Sept 2-6, 2010. We love our Jesse!

After all of that, Darrell and I headed off to Animal Kingdom. Steve and Liz had already left and deTag and Jesse would be in later.

Our first objective was to see "It's Tough to be a Bug". This is one of my favorite 4-D movies across all the parks. Darrell being my little bug...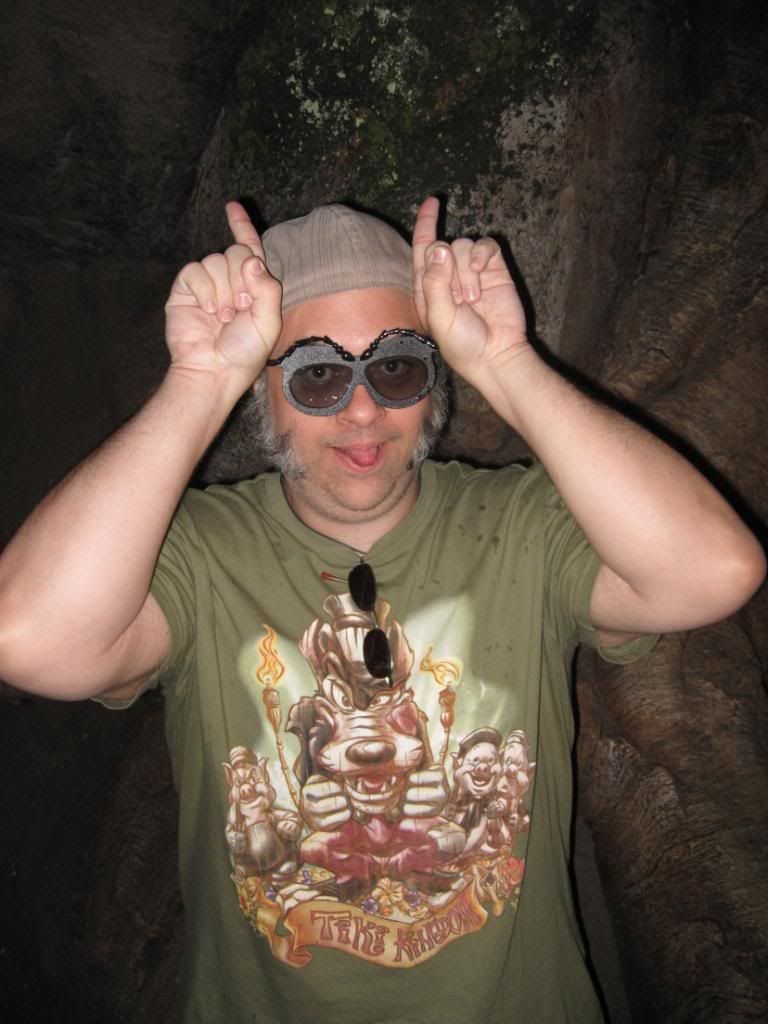 Next, it was off to Expedition Everest. He hopped in the Stand-by line since it was only a 10 minute wait. We flew through the queue. I was able to take a good shot of the yeti painting you pass underneath as you climb that first tall hill.
We jumped off Everest and went around to the line again. The wait had increased to 20 minutes but we hopped back in line. Since the line was a little longer, we were able to look at some of the many artifacts and props in the queue.
On this go around, I tried to video the Yeti animation that you get when the ride is switching the tracks from backward to go forward down the tallest drop in the ride. I also tried to video the animatronic Yeti near the end of the ride. Below it the animation I recorded but trying to catch the aminatronic Yeti was impossible!
After doing video on the rollercoaster, I was feeling a little green and decided that I was done with Expedition Everest for the day. After a brief rest, Darrell and I walked over to Nemo: The Musical, another fantastic live show. We were there early and had great seats in the 3rd row on the aisle. It's a great show. Here is a short video clip...
We backtracked from Nemo back to Expedition Everest to meet up with everyone else. Jesse, deTag and Liz rode while the rest of us waited and watched. Liz was a little nervous at first but she loved it.
Everyone walked over to Dinoland next. I wasn't going to ride Dinosaur after my video experience on Everest but Jesse did talk me into riding Primeval Whirl. It is a kids ride. Think of it as a mixture of rollercoaster and tilt-a-whirl. There are no big drops but it is brutally jerky.
At Dinoland, we split ways again. Steve, Liz, deTag and Jesse were heading to Nemo: The Musical while Darrell and I headed to the Flametree BBQ for lunch. The Flametree has good food and some beautiful seating areas. We walked down by the water to eat. We were surrounded by birds and water with a beautiful view of Everest.
After lunch, Darrell and I headed back to the resort. We knew we would be out late for our second, and non-costumed, MNSSHP and we wanted to rest before heading back out. Besides, I was going to get my picture with Capt'n Hook and Smee tonight and I wanted to put on my Black Bunny Crew t-shirt and custom Mickey Pirate hat.
About 4:45p, Steve and Liz knocked on our door. They were their Ghostbusters costumes for the night. We picked up deTag from his room and all headed to the bus stop. We were on our way to Boma at the Animal Kingdom Lodge. The only way to get from one resort to another by bus is to take a bus to a park and then hop the bus to the other resort. We jumped on the Hollywood Studios bus at the All-Star Resort, disembarked at Hollywood Studios and walked over to the bus to the Animal Kingdom Lodge. Jesse at stayed at the Animal Kingdom (to ride Expedition Everest 7 more times) and was going to meet us at Boma.
Liz had brought her puppet Vapor to go with the Ghostbusters theme. He kept children and adults alike entertained all night.
After an amazing meal at Boma, we were back on the bus on our way to the Magic Kingdom. We arrived on the Square just before the first parade. Darrell and I ran down to Uptown Jewelry to grab the two Limited Edition Halloween pins I wanted.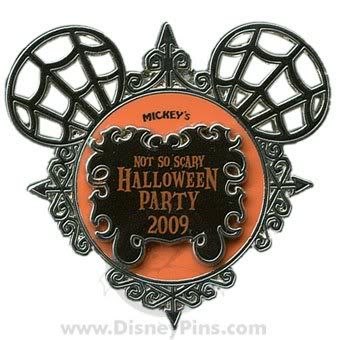 Once the pins were in hand, we joined everyone else at a great viewing spot on the Square for the "Boo to You" parade.
Earlier in the day, Shane had sent a text telling us look for a manger in a yellow shirt near the car barn where the parade ended. There were 20-30 people in the area and the manager was calling people back 8-10 at a time. After a few minutes, it was our turn. We walked through the door to the Disney 'backstage'. There was Barbosa, Sparrow, Mickey, Minnie, Daisy, Donald and the Caretaker with his bloodhound Jo-Jo. It was fantastic to get a photo opportunity with a character that you only get to see in the parade. Plus we all had the chance to pet the sweetest bloodhound!
We all headed down Main Street for a couple of great pictures.
Darrell, Jesse and I camped out near the Crystal Palace to watch the Hallowishes fireworks show. Darrell and Jesse were both experimenting with fireworks photography. They took some incredible shots...
Next, we met up with everyone for a ride through the Mansion. The second parade was about to start and Darrell, Jesse and I wanted to get some more pictures, so we staked out a spot to take parade pictures and enjoyed it all again.
After the parade, it was off to Pirates. Not only did I want to ride but I wanted to get my picture with Capt'n Hook and Smee.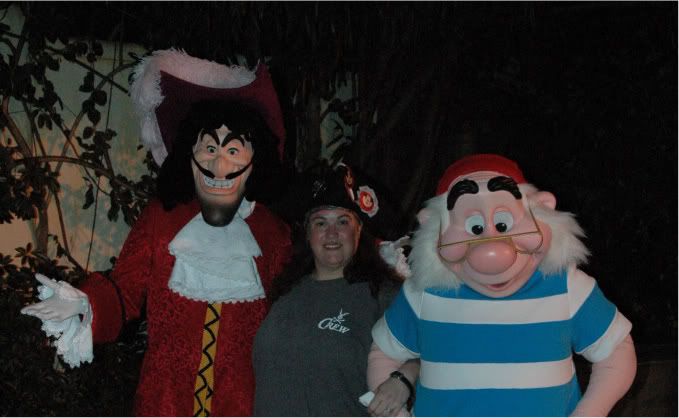 From Pirates, we walked over to Big thunder Railroad and then on to the mansion for our last ride of the night, and trip.
While were not the last to ride through - there were 2 people behind us, we did wait around afterwards. We were invited back into the Mansion Foyer, with both Stretching Rooms open with the portraits stretched out and all the lights ON! We took more pictures with the awesome Mansion Cast members and just relished in the warm glow of Haunted Mansion goodness.
Main Street wasn't completely empty when we left but it was close and we only shred the bus with four other people. It was another wonderful MNSSHP night!
Posted by

Annabella
at 10:22 AM