Tuesday, October 6, 2009
We all met up this morning and went to breakfast at the resort around 10:30a. One thing I can say about the food court is they do not skimp on the amount of food. Our breakfast consisted of a platter with scrambled eggs, potatoes, chicken sausage, French toast w/ syrup and a biscuit – oh and a juice and a fountain drink!

After our morning meal, we were off to the Magic Kingdom. The resort bus line was pretty long and that was a sign of things to come. It was pretty crowded.

It was a good ride day. We started with Pirates and Big Thunder Railroad. Then it was tie for Jesse to have his coveted Mickey ice cream bar.


Next was the Country Bear Jamboree and a stroll through the Frontierland Pin Store. Jesse was wanted to ride the steamboat, so we boarded the Liberty Bell. That move was perfect timing. Not long after we got on our way, the rain came pouring down. While it had not completely stopped by the time we were back it dock, it had slowed down to a damp drizzle. We also got some great shots of the Mansion with a stormy sky.
After disembarking the Liberty Bell, we were off to the HOP (Hall of Presidents) to see the new addition. Since it was during the parade time, there were very few people and we could get comfortable. I love the HOP. It always makes me cry.
Snack Time!!! After the HOP, we cut through to Adventureland to get an Aloha Isle Pineapple float – a small slice of heaven! From there, it was to the Jungle Cruise. This time around, I made sure to get the name of our boat.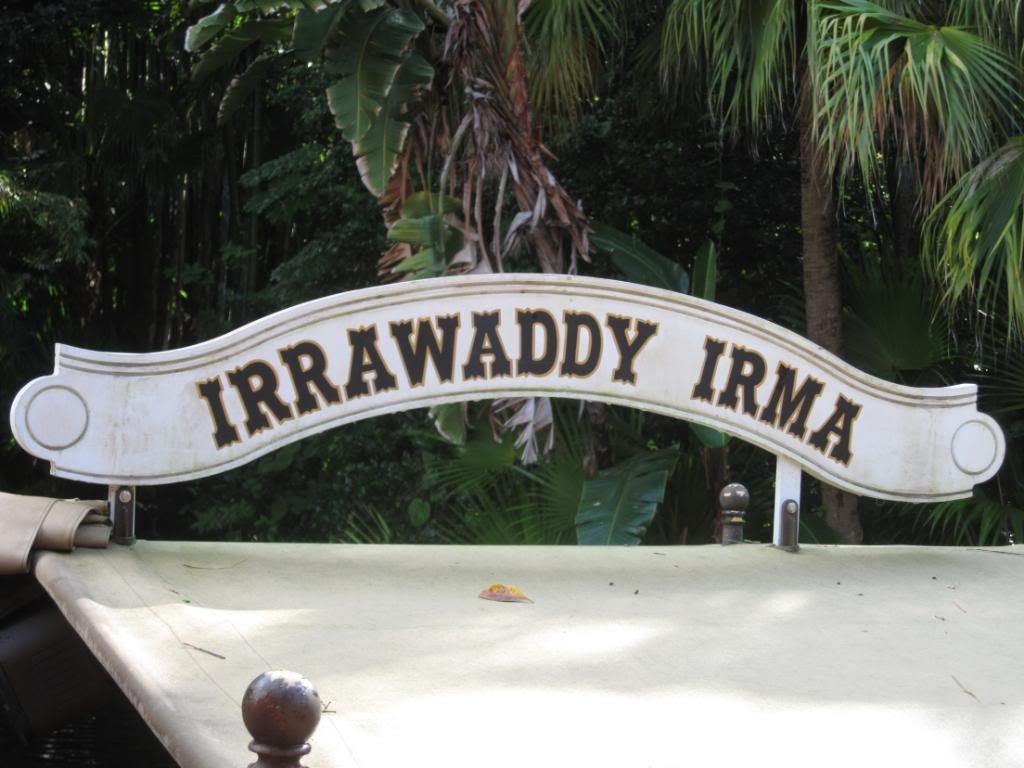 Next, it was to the Haunted mansion and then to Fantasyland for Small World, Mickey's Philharmagic and Snow White's Scary Adventures.
It was nearing our dinner reservation and we decided to walk through the Castle to the front of the park.
We a boat over to Wilderness Lodge for a 7:25p reservation at Whispering Canyons. They were running about 30 minutes behind. We grabbed a buzzer, found some comfy chairs and relaxed until our table was ready. The meal (a.k.a. meatfest) was amazing as always and we had a fun server, Bree the Bandana Bandit. We experienced a couple of ketchup calls – but not to our table, two horse races and another delectable treat in the form of S'mores Cheesecake.
We didn't head back to the Magic Kingdom until 10p. It was a beautiful boat ride back to the Magic Kingdom. Darrell, Jesse and I decided to head back to the resort while Steve, Liz and deTag headed back into the park for Extra Magic Hours.
The resort bus lines were already a nightmare but we just waited in line and took it all in. We made it back to the resort by 11pm.
We will be in Epcot tomorrow. Darrell and I are going to meet everyone there later in the day. We promised each other we would take it nice and slow this vacation and do things at our own pace.
Posted by

Annabella
at 8:46 AM